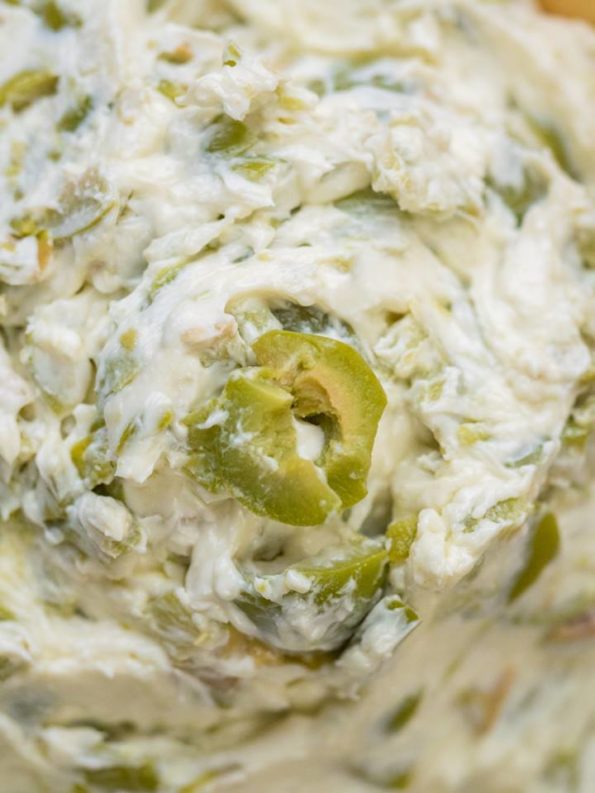 You are not going to believe how simple and delicious this dip recipe is until you make it for yourself. When we daydream about dip…it's normally because we're about to throw or go to a party, but tasting this olive dip inspired us to ask each other, why on earth wait for a party? Any time can be the right time when something this good is only a few ingredients away.
Are you a fan of olives? Before you answer that, this dip will either introduce or remind you of exactly why those little globes of goodness are so sacred to the Italians who grow them all over the countryside.
Olives really do have a very distinct flavor that gives this particular dip a fantastic taste like no other. There are so many types to choose from, and you can certainly pick your favorite, but this time we went with a classic jar of green olives – and we had no regrets.
When you think about the possibility of making this dip, consider this: the only chopping required is – you guessed it – the olives. Everything else (a very short list of ingredients) just pours into one single bowl.
Your enjoyable task is simply to stir, serve, dip, eat, and repeat. Believe us when we say: everyone will go back for seconds of this fantastic dip, so make sure you have plenty of crackers on hand! Okay…so what are you waiting for? Seize the day! You are officially one dip away from sheer deliciousness.
10 minutes to prepare serves 6-8
INGREDIENTS
1 (9 oz.) jar green olives, with or without pimentos, roughly chopped
1 (8 oz.) package cream cheese, room temperature
1/2 cup mayonnaise
1/2 teaspoon garlic powder
Pita chips
Ritz crackers
PREPARATION
Stir softened cream cheese and mayonnaise together in a medium bowl.
Stir in chopped olives and garlic powder until incorporated.
Place in refrigerator for 20 minutes, then serve with your choice of chips or veggies.