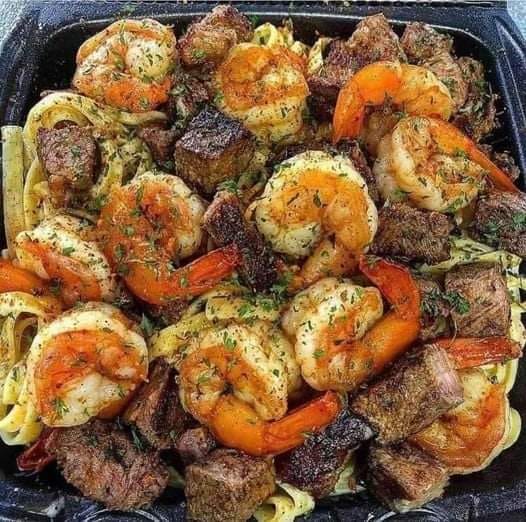 Baked Honey Cajun Shrimp are a quick and easy dinner that takes just 10 minutes to cook. The balance of sweet and spicy is pure perfection. Tastes great served over rice with steamed broccoli or a salad.
To make this amazingly easy and delicious meal, shrimp are briefly marinated in a mixture of honey, soy sauce, lemon juice, Cajun seasoning, paprika, cayenne pepper, garlic, olive oil, and butter. Then they are baked for about 10 minutes.
This recipe can easily be scaled up or down. I find that 1.5 pounds of shrimp is enough for 4 people to have a generous amount.
These Baked Honey Cajun Shrimp also make an awesome appetizer.
INGREDIENTS
2 tablespoons honey
2 tablespoons soy sauce
3 tablespoons lemon juice
1 1/2 teaspoons cajun seasoning
1/2 teaspoon cayenne pepper
1/2 teaspoon paprika
3 garlic cloves, minced
1/3 cup olive oil
1 1/2 pounds large shrimp, peeled and deveined
2 tablespoons melted butter
INSTRUCTIONS
In a medium bowl, whisk first 7 ingredients together. Gradually whisk in olive oil.
Stir in shrimp.
Cover and refrigerate for 1 hour.
Preheat oven to 400 degrees.
Place shrimp and marinade in a 9×13-inch baking dish. Drizzle melted butter on top.
Bake for 8 to 10 minutes or until shrimp turn pink.