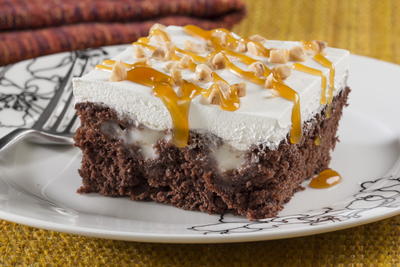 Sure, you've probably had a good cake, and maybe even a great cake, but have you ever had a Better-Than-Anything Cake? This make-ahead poke cake is moist, creamy, crunchy, chocolatey, and most importantly, diabetic-friendly!
What You'll Need
1 (16-ounce) package sugar-free chocolate cake mix
1 1/4 cup diet cola
2 (6-ounce) containers Boston cream pie yogurt, light
1/4 cup fat-free milk
1 teaspoon vanilla extract
1 (8-ounce) (8-ounce) container frozen fat-free whipped topping, thawed
1 tablespoon chopped toffee bits candy
2 tablespoons fat-free, sugar-free caramel sauce
What to Do
Preheat oven to 350 degrees F. Coat a 9- x 13-inch baking dish with cooking spray.
In a large bowl, combine cake mix and soda; whisk until batter is smooth. Pour into baking dish.
Bake 25 to 30 minutes, or until toothpick inserted in center comes out clean. Let cool completely. Using the handle of a wooden spoon, poke about 30 holes over entire cake.
In a medium bowl, combine yogurt, milk, and vanilla; mix well. Pour mixture into holes. Evenly spread whipped topping over cake and sprinkle with toffee bits.
Cover and refrigerate 4 hours, or until ready to serve. Drizzle with caramel sauce just before serving.