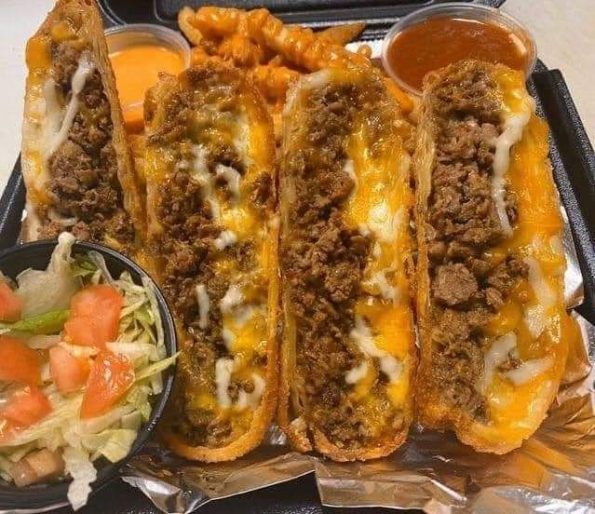 Philly Cheese Steak Tacos are a fun and easy dinner recipe your whole family will love.
These ground beef tacos are loaded with mozzarella cheese, onions and green peppers.
I love tacos and my favourite way to make them is to bake them in the oven.
Old El Paso Stand and Stuff Taco Shells make it so easy to stand up all your taco shells in a pan and fill them up without them falling all over the place.
To make these tacos I started by frying up some ground beef in a large frying pan.
As the ground beef was cooking I added in some diced onions, dehydrated minced onions, salt and pepper.
INGREDIENTS:
22 oz bag of waffle fries
1/2 lb beef
1 packet of taco seasoning
1/2 yellow onion
2 tbsp oil
3/4 cup shredded cheddar
3/4 cup shredded Monterrey Jack cheese
1 large tomato seeds taken out and diced
1 ripe avocado diced
1/2 cup chopped scallion
Optional: soured cream for topping
DIRECTIONS:
Preheat oven to 400, spread waffles fries on an outsized , greased cooking utensil .
confirm that fries is spread in one layer. Bake until golden and crispy.
While fries is baking: Heat up oil during a medium pan , over medium heat, and saute diced yellow onions until translucent. Add beef, breaking in up finely, and taco seasoning. Mix well and cook until beef is fully done.