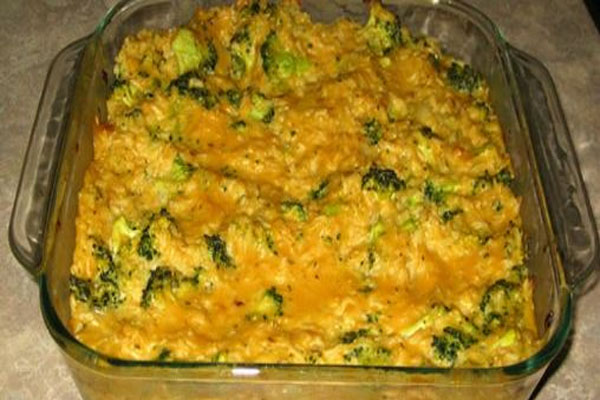 Every holiday, we used to have an assigned family that would take care of that specific meal.
Thanksgiving went to an Aunt and Uncle, Christmas to Grandma and Grandpa, and Easter was Mom and Dad's turn. As we all got older though, it wasn't quite so easy for these guys to make dinner for our growing families. Now all of us have our own kids, and we are the Aunts and Uncles and Moms and Dads and those that once held that position are the Grandmas and Grandpas.
After a few of us got married, it was suggested that we started doing potlucks instead of making one person cook for nearly fifty people. I never had a problem with it. In fact, it sounded perfect for me.
That way we can get all different kinds of foods instead of the same thing every time we went. I found this recipe on Group Recipes for broccoli and rice and it was so simple and delicious, it's now my go-to meal for every holiday.
If I don't bring it, everyone always is wondering what happened to the popular dish!
To make this an even easier dish to make and take, you can prepare it as suggested here, and then put it in the crockpot to take with you. Just put it on a low setting and in a few hours it should be ready to go. You will just have to check the tenderness of the broccoli. You can also just cook the vegetable through all the way first and then it will be done as soon as you toss it all together. Keep it on low and you will have a great potluck dish to pass.
You can always add more rice if you don't want it quite so creamy. You can reduce the amount of soup as well.
Ingredients
1.5 lb bag frozen Bird's Eye broccolit florets
2 Cans Campbell's cream of celery soup, approx. 10.5 oz can
2 Cups Kraft Shredded cheddar cheese
1 Cup milk
3/4 Cup butter, melted
1 Cup cooked rice
Instructions
Boil broccoli until just slightly cooked. Drain between paper towels.
Mix in balance of ingredients and place in greased baking dish.
Bake at 300 degrees for 30 minutes or until bubbly.
From: http://reciperoost.com/2017/11/29/cheesy-broccoli-rice-bake-perfect-side-dish/