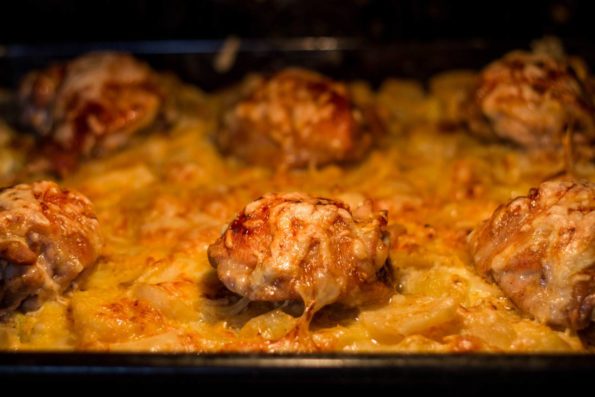 INGREDIENTS
4-6 boneless chicken thighs
2 pounds Russet potatoes, thinly sliced
1 medium yellow onion, chopped
2 teaspoons minced garlic
1 tablespoon olive oil
2 tablespoons unsalted butter
1 ½ cup heavy cream
1 ¼ cup parmesan cheese
3 cups cheddar cheese, shredded
Kosher salt and black pepper
PREPARATION
– Preheat oven to 375°F. Grease a 9×13-inch casserole dish with cooking spray. Set aside.
– Heat 1 tablespoon olive oil in a large skillet. Sear chicken thighs on both sides. Remove and set aside on a separate plate.
– Add butter to the skillet pan. Sauté onions until just translucent. Add a pinch of salt and 2 teaspoons minced garlic. Cook until garlic is just fragrant, about 1 minute, stirring frequently to prevent burning.
– In a large bowl, combine sliced potatoes with heavy cream and ½ cup parmesan cheese. Add 1 teaspoon salt and ½ teaspoon pepper and stir to combine.
– Layer ⅓ of the potato slices into bottom of prepared baking dish. Spread ⅓ of the onion mixture over top of the potatoes. Sprinkle over ¼ cup parmesan and ½ cup shredded cheddar cheese. Make a second layer with ⅓ of potato slices, onion mixture, and another layer of both cheeses. Repeat a third time, finishing with the shredded cheddar cheese. Pour the cream from the bowl over top of the potatoes.
– Place seared chicken thighs on top of the potatoes, spaced evenly apart. Cover with foil and bake for 20 minutes. Remove foil and sprinkle over the last 1 ½ cups of cheddar cheese. Return to oven to finish baking for another 15 minutes.
Remove casserole from oven to cool for 5 minutes before serving.