Christmas nougat is one of my favorite treats to make and to give away as gifts, so yummy and perfect to bring to a Christmas party.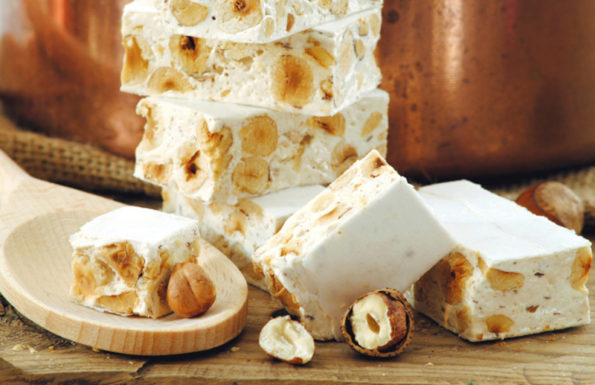 Ingredients
250 g white chocolate
250 g white marshmallows
75 g almonds
75 g pistachios
75 g dried cranberries
30 g dark chocolate
Method
STEP 1Line a square cake tin with baking paper and spray with a non-stick cooking spray.
STEP 2Break white chocolate into pieces and place in a microwave safe bowl and microwave on medium for 1 minute. Remove from microwave, stir and if not melted return to microwave until chocolate has melted.
STEP 3Add marshmallows to melted white chocolate and return bowl to microwave. Microwave on medium for 1 minute. Remove and stir to break up marshmallows. Mixture may need to be returned to microwave until it is smooth. If so, continue to microwave in 30 second bursts.
STEP 4Once white chocolate and marshmallow mixture is smooth, add in almonds, pistachios and cranberries and mix quickly until combined.
STEP 5Pour into prepared tin and smooth surface down by pressing on it lightly with a greased piece of baking paper. Place in fridge to set for 2 hours.
STEP 6Once nougat has set, remove from fridge. Remove nougat from tin and cut into pieces.
STEP 7Melt dark chocolate in microwave and drizzle melted chocolate over the top of nougat using a fork or chocolate can be placed into a piping bag. Allow to set, then enjoy.
Notes
I used a 20 x 20cm square cake tin. The mixture did not fill all of this tin, it was about 12cm wide x 20cm long. Nougat can be cut into any size. I cut mine into approx. 4cm square pieces. Use a good quality white chocolate. You can use blanched or natural almonds.
Source : Bestrecipes.com.au