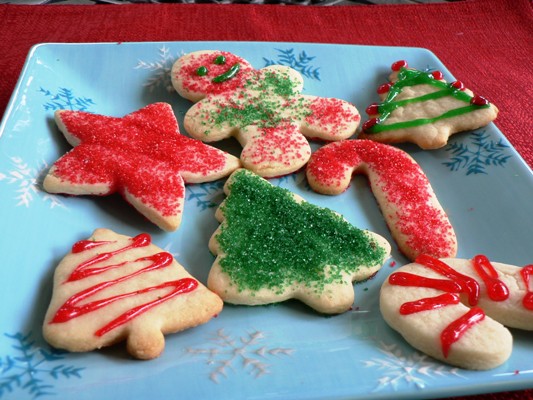 Quick and easy Christmas Sugar Cookies are so good either plain or decorated with royal icing!
These Christmas Sugar Cookies are soft and buttery, keep their shape while baking AND everyone loves them. The best part? No big mixer needed!
If you're looking for a great sugar cookie recipe, whether you're decorating or not, then this is the recipe for you!
What are sugar cookies made out of?
Simple ingredients you'll find in your kitchen! You'll be relieved to know there are no weird ingredients in this recipe. You're just 5 ingredients away from the best sugar cookies of your life!
Butter ✓
Sugar ✓
Pure vanilla extract ✓
Egg ✓
Flour ✓
How do you get sugar cookies to keep their shape?
What sets this recipe apart from the rest is no baking powder or baking soda. During testing, we found the addition of either of those or a combination of the two ingredients made for puffy sugar cookies that lost their shape while baking from puffing up too much. We also found that we preferred the flavour of these cookies without those two ingredients. They are absolutely not needed in this sugar cookie recipe.
Also, we chill the dough before rolling so that after you've cut them out, they're easier to lift off of your bench and arrange onto your baking sheet, maintaining their shape while baking.
INGREDIENTS
For the Cookies:
½ C butter
½ C shortening
½ C sugar
1 egg
3 tsp vanilla
3 Tbsp milk
3 C flour
½ tsp baking powder
For the Frosting:
3 C powdered sugar
½ C butter (1 stick)
3 Tbsp milk
1½ tsp vanilla
Food coloring
Sprinkles
Red hots
INSTRUCTIONS
For the Cookies
Preheat oven to 325°
In a medium bowl, mix together, butter, shortening, sugar and egg. Add vanilla and milk. Mix well until combined. Gradually stir in flour and baking powder scraping down the sides of bowl.
Roll out a small amount of dough on a floured surface to about ¼″ thick and cut into shapes. Place on cookie sheets and bake until edges just start to brown. Approximately 10-12 minutes. Let sit on cookie sheets for a few minutes then transfer to cooling rack. Repeat until all dough is used.
Here's a little cookie tip for you…. When rolling out your cookie dough, mix flour and powdered sugar 50/50. Use this mixture and your cookies will taste much better and not leave a flour taste in your mouth.
For the Frosting
In a medium bowl, cream butter, milk, and vanilla together. Gradually stir in powder sugar and beat until smooth and creamy.
Put frosting in individual bowls, add food coloring of your choice, stir. Frost cooled cookies. Decorate with sprinkles and red hots.