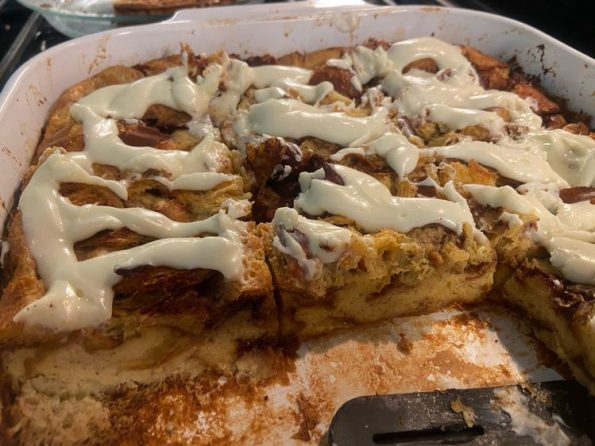 CINNAMON FRENCH TOAST ROLL IN A CASSEROLE 
Whether you're organizing a brunch, preparing breakfast for the family or trying to feed the kids before sending them to school with this super easy recipe, cinnamon French toast is the right answer! No one can resist this delicious French toast dish for the night, filled with sugar and cinnamon.
I think we can all agree that the best part of a cinnamon bun is the way the cinnamon, sugar and butter cook together to form this sticky, sweet cinnamon filling. My cinnamon French toast recipe is a little different from other recipes. Instead of using store-bought cinnamon rolls, I've combined this great cinnamon sugar filling with a delicious brioche to really combine French toast and cinnamon rolls.
INGREDIENTS
1 Brioche bread
1 stick Butter, unsalted
1 cup of sugar
2 tablespoons + 1 teaspoon of cinnamon
6 Eggs
1 cup of whole milk
1 cup Dunkin Donuts Extra Extra Creamer
⅛ teaspoon Salt
1 teaspoon vanilla extract, if you use Dunkin' Donuts Extra Extra Creamer Vanilla or Caramel you can strain the vanilla extract.
ICING
6 ounces of cream cheese
½ cup Powdered sugar
¼ cup Dunkin' Donuts Extra Extra creamer
INSTRUCTIONS
Cut the bread into large cubes (about 1 to 1.5 inches).
In a bowl, mix the softened butter, sugar and 2 tablespoons of cinnamon. Set aside.
In another bowl, add the eggs, milk, Dunkin Donuts Extra Extra Creamer, salt, 1 teaspoon cinnamon and vanilla extract (optional). Whisk until well blended. Set aside.
Place half of the bread in a greased 9×13-inch casserole dish. Garnish with half of the butter, sugar and cinnamon mixture.
Add the rest of the bread and cover with the remaining butter, sugar and cinnamon mixture.
Pour the egg mixture over the bread, making sure to moisten it well.
Cover with plastic wrap and refrigerate for at least 3 hours, preferably overnight.
When baking, preheat the oven to 375 degrees F. When it reaches the right temperature, place the casserole in the oven and bake for 45 to 55 minutes.
Once the casserole is cooked, remove it from the oven and let it cool for 10 to 15 minutes.
While the casserole is cooling, make the glaze. Mix the cream cheese and powdered sugar, stirring until no lumps remain.
Add the Dunkin' Donuts Extra Extra to the sugar and cream cheese mixture and whisk until the mixture is smooth.
Pour the icing over the cinnamon French toast and enjoy!