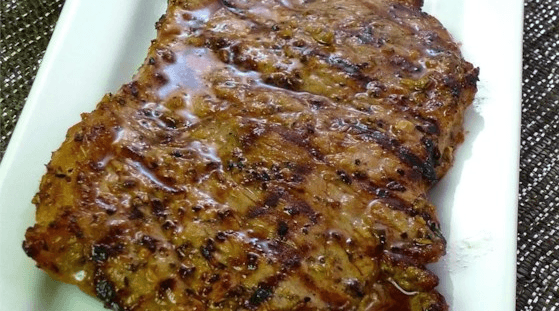 I am cuban we cook very simple , its better when you made a marinate like mojo so we call it, sour orange, roasted cumin it has to be roasted so you can get the full flavor of the cumin seeds,oregano, black pepper ,sea salt ,lots of minced garlic, and a steak, we usually use a very thin steak like palomilla style(is a cuban thing) .we pound the steak with a hammer or any heavy object , then marinate into that mojo.
you can after all the stekeas are marinating acut some white onons rings and dump it together, when frying the steaks please do not let it cook all the way through, or however you like to eat it, then after frying them set them on aside, in the same oil i use olive oil nt much just enough to give them a nice caramelized color outside, then add the onions and some of that mojo, frye the onions until translucients and then add the steaks, and tse them a bit them cover and simmer for just 4 mnts . and then.! que rico! a comer! let us eat with some black bean potage and white rice, fry green plantains mmmm yummy! i hope i help you somehow.
Wow what a great recipe. I doubled and used on a 3 lb sirloin tip roast. Marinated for about 7 hours then roasted at 350 for about 1 half hours with the marinate in the roasting pan as well. Cooked tatters and other veggies in same pan. Will be making again.
One of my favorite steaks ever. Living in Costa Rica, rib eyes are not common, but we have the tenderloin available. We marinated the steaks overnight for 12 hours and the steaks were jaw dropping good. We also made another allrecipes recipes for Pacific Cuban Black Beans and Rice. Best flavor of beans and very different.
This review is for my future reference, not for people to get annoyed that I didn't follow the recipe! I used much less than 2 tbsp of the Montreal steak seasoning. And it was plenty. (Used 2 tsp). Also, I don't know what the fuss over Montreal steak seasoning is because it tasted like Mrs Dash original blend to me…, The steak was ok, we ate it. But it wasn't awesome…..
My husband and I wanted to make a real latin dish with steak, red beans and white rice – like we get in an authentic latin restaurant. We were a little skeptical to try yet another acidic recipe involving lime juice and orange juice because of so many other failed attempts… However, this recipe is perfect! We were so shocked and surprised at how good it was! We marinated three small/medium sized rib eyes for a few days in the fridge and grilled them to crispy perfection. We were so proud of ourselves. We're making the dish again this week with black beans!
This was just ok for us. The steak had a lot of flavor, but I think it needed salt. Too much flavor for a good quality steak. You couldn't enjoy the flavor of the meat. It would be better with a sirloin. I don't know what I expected, but I wasn't overjoyed with this one. Not sure I would make again.
I marinated the meat longer than what it called for. However, the steak was very tender and juicy.A tender, juicy steak! The cumin adds that extra flavor that makes the steak. I added fresh jalapenos for extra flavor!
This was a great marinade, totally different from the normal. I started it the night before, and flipped the meat a couple times throughout the day. I think it would also work well with chicken breasts. I plan to try it that way next time. I'll definitely be using this recipe again. I made no changes, and don't know what I would change if I did.
Used a Tri-Tip and realized I need company or I have great left overs this week? Left overs!
Excellent flavor. The steak was nice and juicy and cooked to perfection. I would definitely earmark this recipe to be used again…and soon!!!
I don't generally like my steaks marinated, but this sounded good so i tried it. I liked it quite a bit. But… did I mention that i don't generally like my steaks marinated? I decided to try it on a pork loin… and viola! It was really, really good for that pork. This will become my go to marinade for those loins in the future.
Will definitely make again. I didn't have any rib eye steaks but used round steaks that I had on hand. Followed the recipe with the exception of the cumin seeds, I didn't have the seeds on hand but did have ground cumin. Marinated the steaks overnight
Ingredients:
1/2 teaspoon cumin seeds
1/4 cup orange juice
2 tablespoons vegetable oil
2 tablespoons Montreal-style steak seasoning
2 1/4 teaspoons lime juice
1 1/2 teaspoons dried oregano
1 1/2 pounds beef rib-eye steaks.
Directions:
Place cumin seeds into a small skillet over medium heat; stir constantly until seeds turn dark brown and smell toasted, about 1 minute. Immediately pour seeds into a bowl to stop the cooking. Mix cumin seeds with orange juice, vegetable oil, steak seasoning, lime juice, and oregano in a bowl.
Place steaks into a large resealable plastic bag, pour orange juice marinade over the meat, and squeeze out air. Seal bag and turn it over several times to coat meat with marinade. Refrigerate at least 30 minutes, or longer for extra flavor.
Preheat an outdoor grill for medium-high heat and lightly oil the grate.
Remove steaks from marinade, shaking off any excess. Discard used marinade. Grill steaks on the preheated grill until seared on the outsides and still slightly pink in the centers, 6 to 8 minutes per side. An instant-read meat thermometer inserted sideways into the center of the thickest steak should read 145 degrees F (65 degrees C). Let steaks rest for 3 minutes before slicing.
Note:
The nutrition data for this recipe includes the full amount of the marinade ingredients. The actual amount of the marinade consumed will vary.
SOURCE :allrecipes.com