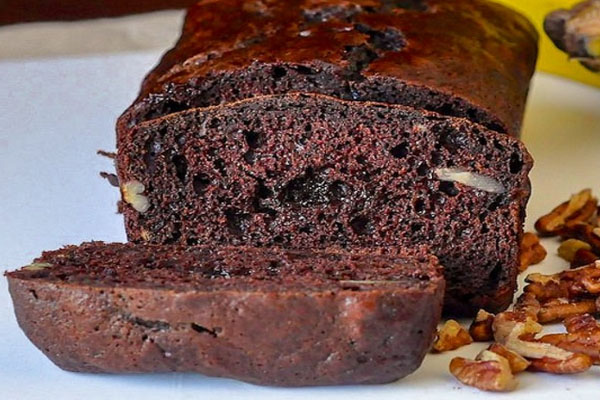 We live just around the corner from the Junior High School that our kids attend. Almost daily we have a parade of kids visiting over their lunch break and there is almost always a steady supply of freshly baked banana bread on hand to feed the hungry teens.
After hundreds of loaves of banana bread we decided to experiment with a different version that incorporates cocoa in the batter as well as mixing in some toasted pecans and chocolate chips. I guess the empty plate means it was a big success. This moist loaf is definitely one to try…you have ripe bananas on your counter top already, right? ?
You might also want to try my Mom's recipe for old fashioned Banana Bread. We always insisted on a scattering of chocolate chips in that recipe but if you prefer, you can easily leave them out.
Double Chocolate Pecan Banana Bread. This modern chocolate banana bread ups the delicious ante with chocolate chips and crunchy pecans in a version of the classic loaf cake that everyone loves.
Ingredients
1 cup white sugar
½ cup vegetable oil
2 eggs beaten
3 medium ripe bananas mashed
1 3/4 cups flour
1/2 cup cocoa
1 tsp baking soda
½ tsp baking powder
½ tsp salt
¼ cup milk
1 cup chocolate chips
3/4 cup lightly toasted pecan pieces or walnuts
Instructions
Preheat oven to 325 degrees F.
Beat sugar and oil in a bowl until foamy. Add eggs and mashed banana. Mix well.
Sift together dry ingredients and fold into banana mixture alternately with milk.
Fold in chocolate chips and pecans.
Pour batter into 1 large or two small greased loaf pans and bake for 45 minutes to an hour depending upon pan size. A toothpick inserted in the center which comes out clean is the best indicator that the loaf is fully baked.
From: https://www.rockrecipes.com/double-chocolate-pecan-banana-bread