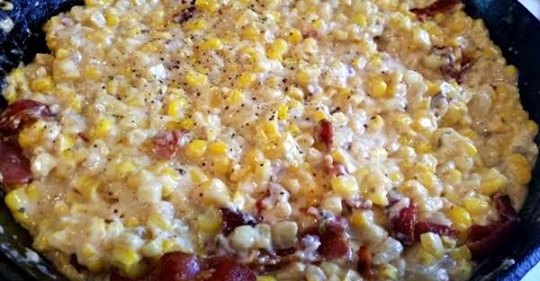 Diana, you certainly did a great job of making my family plus the boyfriends extremely happy. Hubby and youngest daughter are addicted to canned cream corn, but when they tasted this, they couldn't believe the difference. My older daughter can't stand creamed corn but decided to give this a taste. Guess what? Her plate had a huge helping! My cooking method was a bit different. I don't do milk and flour as I prefer to make a roux with the butter and flour. Used more corn as my packages were 14 ouncer's. Also added just a touch of seasonings, but cut way back on the salt. Gang came back for seconds and thirds. Thanks so much for a great recipe! Thanks to you too Tay~Tay and Cookie for your input!
This was the most delicious creamed corn I ever ate. I used C&W Sweet White Corn (frozen). As I was cooking, I got frustrated, as it was not thickening up fast enough, so I dumped the entire 32 oz. bag in there. Well, it did eventually come around, after about 20 minutes, and it was perfect! I did not add 1/4 cup parm, but just a hint of.. and I have to say that this recipe will grace my Thanksgiving table for years to come. Thank you, Diana.
WOWEE!!! I used a pound of frozen corn- just run it under hot water in a colander for a minute. Make sure you use PLAIN corn….not sweet or with any added ingredients. I halved the rest of the ingredients. I simmered mine until it was pretty thick. (before adding the parm) Perfection. Thanks!
This is NOTHING like canned creamed corn! My husband is not a fan of corn or creamed dishes, but he thinks this is great. Easy and quick to prepare and is an especially delicious side dish for chicken or pork. Everyone always asks for the recipe.
Ingredients
12 ears fresh corn (cut from the cob and scraped)
1 tsp salt
1 Tbsp sugar
6 Tbsp butter
1/2 c half and half
6 slice bacon (cut in thirds and browned)
2 Tbsp flour
1/2 tsp black pepper
Directions
1. Brown the bacon in a cast iron pan or heavy skillet on medium to medium-high until browned.
2. While the bacon is cooking, in a large bowl mix the corn salt, black pepper, sugar, and flour. Stir until mixed.
3. Remove the bacon from the skillet and set aside.
4. Add the corn mixture and cook stirring occasionally to keep from sticking.
5. Halfway through, about fifteen minutes, add the half-and-half, and butter and cook another few minutes before adding the bacon.
6. Add the bacon and cook another five minutes the bacon becomes heated again.
7. Serve with your favorite meat, green vegetable, and bread. Enjoy.
Last Step: Don't forget to share!