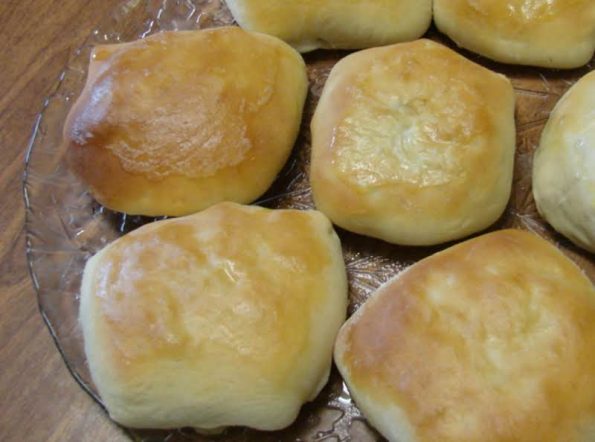 I love when my Mom and Grandma would make these. It was always a special treat. I make this an all day event when i make them due to the fact i make 5 dozen and freeze them… which turns out to be a waste of time with the kids running to the freezer every day saying "dont worry bout me for supper mom im just gonna grab a cabbage burger" Here in Nebraska we have a fast food place called Runza and when i explain to my friends what a Cabbage Burger is they say "oh you mean a Runza?" and the debate starts they are 2 totally different things and not anywhere close to the same!!
-I have family in Nebraska and I spent time there and Colorado. We called them Runza's as well. Although, as the recipe writer mentions, there is a difference. This meat is fried. The one I am used too, we boiled the cabbage, onion and meat. We did add the extra pepper and I have added cheese. Making these as desserts might be very tasty. I may try both ways and see the difference. Thanks for this post!
-Never thought to combine these basics in this way. I would change this in so many ways – NO game, ONE pound of ground beef, and ONE loaf of frozen bread dough. Love cabbage, but I might make it a bag of chopped cabbage (coleslaw) instead.
-My dad is German and my grandmother made these for her family all the time, She did not speak English but my mother finally leaned how to make these from her. She made them the same way except she told her to use a lot of black pepper in the filling. When my grandmother*s mother made them in Germany, she used Elk and Venison. I have made them many times using Rhodes frozen Texas size rolls for the bread dough. A. lot easier that way
-I made the smaller amount:12, and they really looked good. But for us a bit bland. I believe a dash of cayenne would be good next time. Did anyone have trouble with them falling apart like we did? There is no binder so they are rather messy either eating by hand or using a knife and fork. I used your bread recipe and it was very good and made 12 nice squares.
Cook time: 35 Min Prep time: 2 Hr Serves: makes 5 dozen
Ingredients
FILLING
6 lb hamburger (I use deer or elk)
salt and pepper to taste
garlic salt to taste
5 Tbsp minced garlic
2 large onions
4 medium cabbage heads
5 loaves of bread dough
I have one person try these that stated they added cubes of potatoes to the filling as well!
BREAD DOUGH
1 c water, warm
1 Tbsp active dry yeast
1 Tbsp sugar
1/4 c sugar
1/3 c powdered milk
1 tsp salt
1 large egg
1/4 c oil or butter (melted)
3 c flour
Directions
1. Start by browning the meat using salt and pepper and garlic salt to taste. Add in 1 of the onions and 1 or 2 tablespoons of the garlic as well. Drain the meat and set aside.
2. While you are browning the meat you should chop up the onions and cabbage. I like small chunks of onion and medium sized chunks of cabbage.
3. Add cabbage, onion, and remaining garlic to large stalk pot add the burger on top of cabbage and mix. Season to taste with salt pepper and garlic salt.
4. Let simmer on LOW heat till cabbage is tender.
5. I use my bread machines to make the bread, add 1 tbsp yeast and 1 tbsp sugar to 1 cup warm water mix till dissolved and place in bread machine then add the other ingredients in order to the machine an set on dough setting.
6. As soon as everything is ready to go, roll out dough and cut them into 12 squares large enough for a heaping 1/2 cup of the cabbage mixture. Fold up the corners and "just a pinch" to seal them and place them on a large cookie sheet.
7. I have it set up so when I take one batch of bread dough out I start the next loaf right away so that by the time the cabbage burgers come out of the oven and cool I can be working on the next batch.
Grandma's Cabbage Burgers!
8. Bake at 350 degrees for 30 to 35 minutes, till nice and golden brown. Lightly brush tops of rolls with butter. Serve right from the oven, and freeze the rest if there is any. Enjoy!!!
9. You can cut this down but where I only do the majority of my baking in the winter I do it this away and freeze them.
Last Step: Don't forget to share!