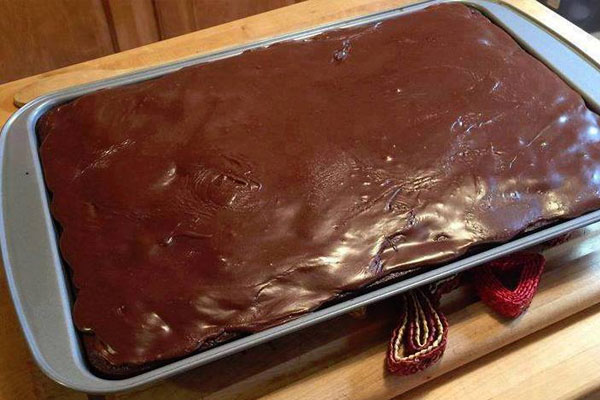 Wonderful brownies! They are moist and flavorful. I baked them on a cookie sheet and they baked really quickly! The icing is great on top. Thanks for posting!
I am a fairly new baker, and the directions on this were not as explanatory as I needed! Everything turned out fine, but I didn't realize the frosting would be so runny. I took the brownies out of the pan before putting on the frosting b/c i only wanted to do half. Next time I will definitely leave the brownies in the pan for that part. I think the frosting is necessary b/c the brownies themselves are not very sweet. I also used a 9″ x 13″ pan and baked a little while longer. They were very good, thanks!
INGREDIENTS

:
1/2 cup butter ( no substitutes, melt in microwave)
1 cup granulated sugar
4 eggs
1 teaspoon vanilla extract
1 cup flour
1 (16 ounce) cans Hershey's syrup
1 cup chopped nuts (optional) Icing
3 cups confectioners' sugar
1/2 cup butter, melted ( no subs)
4 tablespoons cocoa
4 tablespoons milk
1 teaspoon vanilla extract
How to make it:
1. Preheat oven to 350 degrees. Grease the bottom of a 10 by 15 inch pan
2. After melting butter in microwave, cream sugar and butter together. Add eggs, one at a time and beating well after each addition.
3. Add vanilla extract.
4. Add flour, mix well.
5. Add Hershey syrup, mix well.
6. Add chopped nuts, if using.
7. Pour batter into pan. Bake for 35-40 minutes or until brownies test done with a toothpick.
8. When the brownies are almost done baking, prepare icing.
9. Bring to boil in the microwave, the butter, cocoa and 1 T. milk.
10. In a mixing bowl, add confectioners' sugar. Add the cocoa mixture to the sugar and beat well. Add 1 t.
vanilla extract. Add the rest of the milk. Add enough to get the desired spreading consistency.
11. Let brownies cool about 5-10 minutes. Spread icing on brownies. Sprinkle with some more chopped
nuts, if desired. The icing will harden to a fudge-like consistency.
12. Let brownies cool completely before cutting into squares.