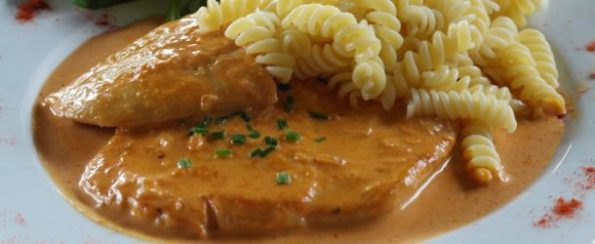 The Easiest Way EVER To Make A Prize-Worthy Dinner!
Five ingredients! That's all it takes to make a superb meal you won't soon forget! Every time I serve these pork chops and gravy to my friends or family members, they all say the same thing. "It must have taken you the whole day to make something as delicious as this!" I always feel tempted to say, yeah, it took a lot of effort… But the truth is, it takes me 3 minutes to prepare these.
I am a huge fan of crock pot meals and if this recipe doesn't explain why, I'm not sure you'll ever understand. Seriously – if I can make such an amazing meal just by throwing a handful of ingredients in the slow cooker, I may never use the stove again!
My husband loves pork chops and when I first tried this recipe, he asked me to never go back to my old one again, haha! Don't worry, hubby dear – I'm quite happy to stick with this one forever and ever. Why would I want to slave away in the kitchen when I can let my trusty crock pot do all the work for me?
I often serve these pork chops with mashed potatoes but occasionally I like to serve them with pasta or rice. I think the gravy goes well with pretty much any side dish!
You can use either bone-in or boneless pork chops. I tend to go with boneless, although I remember my mother always saying the bone gives the chop even more flavor. So choose whatever tickles your fancy! Have you already tried this recipe? We would love to hear how it turned out for you, in the comments below!
Ingredients
4 bone-in or boneless pork chops
1 (10.5oz) can Campbell's cream of chicken soup
1 1/2 cups chicken broth
1 (1 oz) packet of onion soup mix
1 (1 oz) pork gravy packet (or turkey gravy packet)
Instructions:
Place pork chops in the slow cooker. In a separate bowl mix together remaining ingredients and pour over the chops. Cook on low for 6-8 hours. Serve with pasta or mashed potatoes. Use the gravy from the slow cooker over your pork chops.