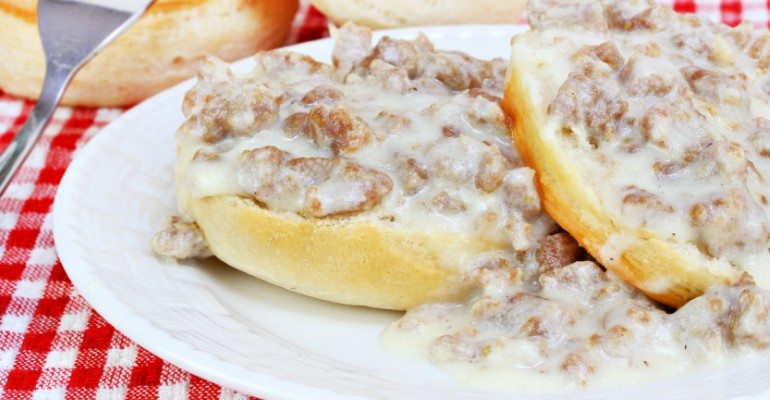 Grandma's coming to town. Guess what that means? Biscuits and gravy time!
For as long as I can remember, biscuits and gravy have been a staple part of my upbringing. Now that I am an adult with my own family I have carried on the tradition. My husband and kids love waking up on Sunday mornings to a piping hot plate of biscuits and gravy sitting on the table. I can tell what they are thinking when they see the mounds of marvelous food, "chow time!"
Much to your surprise, biscuits and gravy are not difficult to make. In fact, this is one of the easiest meal son my menu plan.
Are you ready to get your hands on this amazing recipe? Wait no longer, my friend! Simply hop on over to the next page and let's get cooking!
I can't begin to tell you how amazing biscuits and gravy are. Between the fluffy buttermilk biscuits and the creamy gravy, I think my eyes might just roll back in my head a little bit. This is a recipe that my grandma would often make on Sunday mornings. The smell of the biscuits and gravy cooking always wafted through the house like a food perfume.
Now, don't get me wrong, nobody can beat grandma's biscuits and gravy, but the following recipe comes in pretty dang close.
My husband and kids LOVE biscuits and gravy and always clean their plates when I make it.
Ingredients
Biscuits
1 can (16.3 oz) Pillsbury™ Grands!™ refrigerated biscuits
Gravy
12 oz bulk pork sausage
1/3 cup Gold Medal all-purpose flour
1/2 teaspoon Morton salt
1/4 teaspoon coarse ground black pepper
3 cups milk
Instructions
Heat oven to 350°F. Bake biscuits as directed on can.
Meanwhile, crumble sausage into large skillet. Cook over medium-high heat until browned and no longer pink, stirring frequently.
With wire whisk, stir in flour, salt and pepper. Gradually stir in milk. Cook until mixture thickens, stirring constantly. Split warm biscuits; place on serving plates. Serve sausage mixture over warm split biscuits.