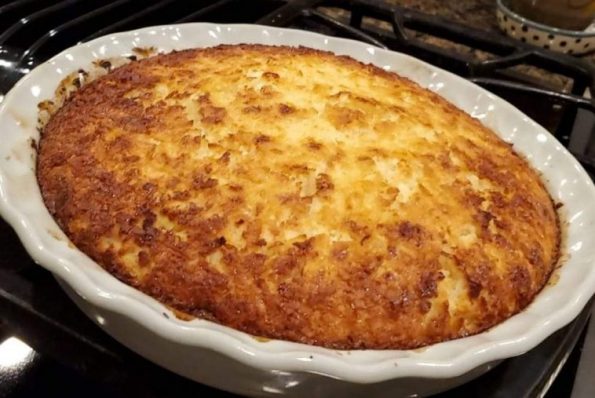 Some of the recipe reviews:
I chose this recipe because one reviewer had said it was very "custardy"…we LOVE custard!! We LOVED this recipe…I can't wait to make it again…and again. I screwed it up and added the coconut to the blender…oops…so I also added more coconut to the top…it was fantastic!! Wonderful custard like "pie" that tastes like a macaroon! I had to bake mine a little longer than the recipe calls for. About 10 extra minutes. Easy to make!!
I found this same recipe in an old cookbook I bought at a garage sale, titled, You've Got to Be Kidding! It also features other delectable delights such as Earthworm Cookies. This pie is absolutely delicious and amazing because it makes its own separate crust, filling and topping; all out of the blender! My recipe instructs to blend as you count slowly to 10, and it instructs to put the coconut in the blender with the other ingredients. As such, it provides a nice buttery topping for the pie. It also fools skeptics of the pie who think they don't like coconut. This is a definite keeper in our house. If you love custard, you'll love this pie. Incidentally, I do not try the Earthworm Cookie recipe!
Ingredients :
1/2 cup Bisquick
3/4 cup sugar
4 eggs
2 cup milk
1 can (3 1/2 oz.) coconut
1 tsp. vanilla
1 TBS. butter, softened
Directions :
Combine all ingredients and pour into 9 inch buttered pie pan. Bake at 400 degrees for 25-30 minutes until custard sets. Like magic it layers into crust, custard, coconut topping. Cool.