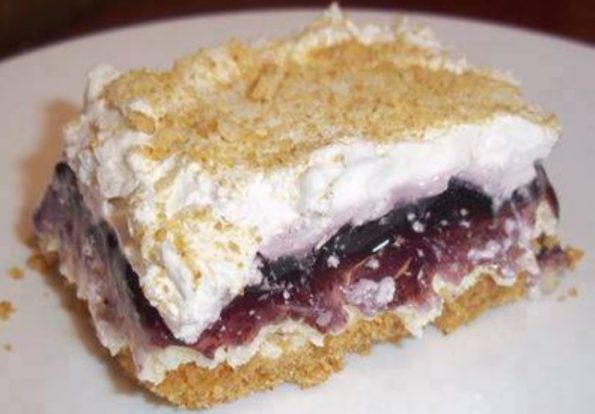 TOP Reviews:
This was sooooooooo good! I changed a few things. I used light cream cheese and whipped topping to reduce fat and calories. I also used only one tablespoon of sugar in the graham cracker crust and slightly reduced the amount of sugar in the filling, while adding more lemon juice (a full teaspoon). This recipe was creamy yet light, and full of cheesy blueberry goodness! The whole pan was gone by morning, and only four people shared it.
**ETA** I made this several more times for my diabetic aunt and mother. I subsituted 3/4 cup of splenda for the sugar, and it was JUST AS GOOD! We also tried it with blackberries and sliced strawberries, and it was still absolutely delicious!
Yummy, cool and refreshing. I will make this again. I made the following changes…I used lowfat coolwhip and cream cheese, only 4TBSP butter in the crust, and only a scant 3/4 cup sugar in the filling. Used the juice of 1 lemon,note when you use lowfat ingreds. it will not firm enough to cut into squares, also an unbaked graham crust never holds its shape, so either bake at 350 for about 8mins or plan on having crumbs.
This is an easy and delicious recipe that we've made several times and everyone loves it! We have made a few changes that make it even better. Most importantly, USE FRESH BLUEBERRIES or other fresh fruit! I like to make it in a 9 x 9 pan so the whole thing isn't quite so thick. For the crust, we like a bit more so we use 2 cups of graham crackers but keep the other ingredients the same. You can buy pre-crumbled graham crackers and it makes it so much easier! For the filling, we only use 3/4 cup sugar but we use a half teaspoon more of both vanilla and lemon juice. Believe me it makes a difference. Last thing, I've also made it with "lite" cream cheese and cool whip, and it's a little less rich but just as good, you can go either way. This dessert is so good and we're happy to have found it!
Awesome recipe, Always a huge hit Some Helpful hints…. Bake your crust for about 10 mins at 350 helps hold it together. this is not needed but does help. Freeze your squares, then take them out of the freezer about and hour before serving cut into squares when just soft enough to get a knife through. Huge help!
This was so good, with a few changes–doubled the cream cheese and whipped topping so it would fit in a 9×13 pan (left the sugar the same–it was way too sweet without). Increased lemon juice to 1 T, and I used fresh blueberries since they're in season. Got rave reviews from everyone!
Ingredients
2 cups graham cracker crumbs
1/2 cup butter, melted
8 ounce package cream cheese
1/4 cup milk
2 tablespoons confectioners' sugar
21 ounce can blueberry pie filling
1 cup heavy cream
3 tablespoons sugar
1 teaspoon vanilla
Directions
In a small bowl, stir together the graham cracker crumbs and butter. Set aside 1/2 cup for topping, and press the rest of the crumbs into the bottom of a 7×11 inch baking pan. Set aside to chill in the refrigerator. In a small bowl, cream the cream cheese, sugar and milk until smooth. Spread evenly over the chilled crumb layer. Spread the pie filling over the cream cheese layer, and chill while preparing the whipped cream. In a chilled bowl, whip the heavy cream, sugar and vanilla until stiff, spread over the top of the blueberry layer. Sprinkle the top with the remaining graham cracker crumb mixture and keep chilled until serving time.
From: allrecipes.com