Kentucky Apple Stack Cake -Traditional Version. I can't say enough about the deliciousness and simple beauty of this historic cake.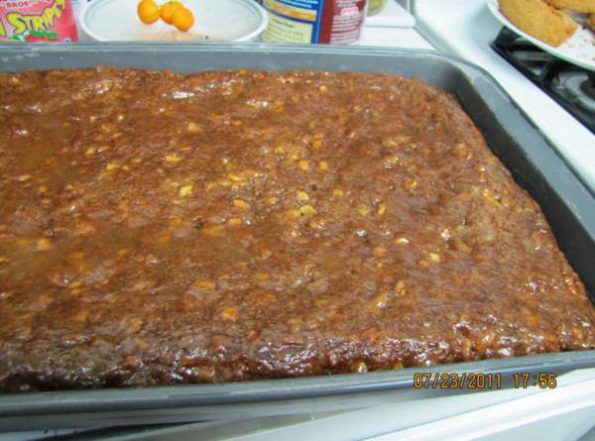 Ingredients
CREAM IN A LARGE BOWL OR STAND MIXER:
2 stickmargarine
2 csugar
ADD: 2 large eggs
IN A SEPARATE BOWL, COMBINE:
2 1/2 call purpose flour
2 tspbaking powder
1 tspbaking soda
1/8 tspsalt
2 tspcinnamon
ADD DRY INGREDIENTS TO THE MARGARINE MIXTURE. MIX IN:
3 cfinely chopped apples
1 cchopped walnuts
2-3 Tbspmilk
GLAZE
3/4 csugar
1/2 cmargarine
1/4 cbuttermilk
1 Tbsplight corn syrup
1/4 tspbaking soda
1 tspreal vanilla extract
How to Make Kentucky Apple Cake
Follow the above steps to make the cake batter.

Grease and flour a 9×13 pan Spread apple cake batter evenly in pan.

Bake at 350 degrees for 50 minutes to 1 hour, or until a toothpick comes out without raw batter on it.

While cake is baking, combine all the glaze ingredients except the vanilla in a medium pan. Stir and cook to a rolling boil. Remove from heat and add 1 teaspoon of vanilla.

Pour and spread glaze over hot cake as soon as the cake is removed from the oven.

Let cake cool completely before serving. The longer it sits, the better it gets!