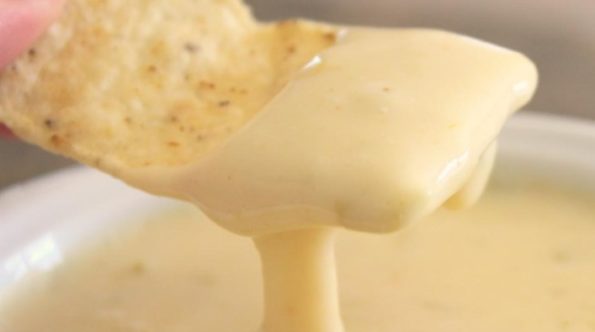 This dip is similar to white cheese sauces served in many Mexican restaurants. The amount of heat can be adjusted by adding your favorite chili pepper or crushed cayenne pepper to taste. As is, it is kid-friendly, quick, and delicious! It can be used as a dip for tortilla chips or a sauce for many Mexican dishes.
I think the people that are giving this a low rating are simply using the wrong type of cheese. You HAVE TO use white american cheese (not white cheddar or monterey jack). You can get Land O' Lakes sliced white american cheese in the deli and it is the only type that will melt correctly. Other than that, I use a can of jalapenos and some of the jalapeno juice and omit that butter. This is the recipe they use in Mexican restaurants…I know because I asked my favorite Mexican place and they told me the same thing. It. Is. Awesome.
Mexican White Cheese Dip/Sauce
Ingredients
1 pound white American cheese, cubed
1/2 cup milk, or as needed
1 tablespoon butter or margarine
2 (4 ounce) cans chopped green chilies
2 teaspoons cumin
2 teaspoons garlic powder
2 teaspoons onion powder
cayenne pepper to taste
Directions
Place cheese, milk, and butter in a medium saucepan over low heat. Cook until cheese has melted, stirring frequently. Stir in green chilies, cumin, garlic powder, onion powder, and cayenne pepper to taste. Add more milk if dip is too thick. Heat through and serve immediately.