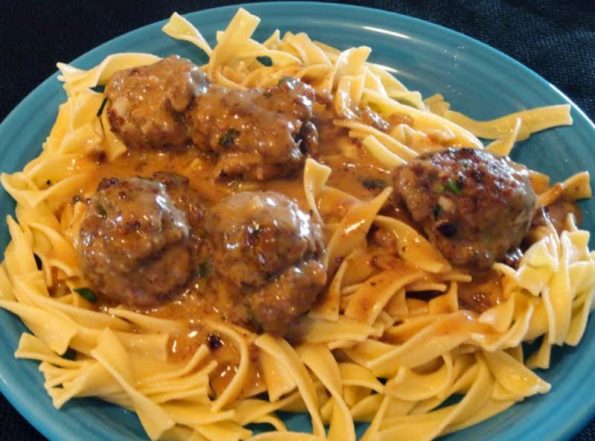 This recipe calls for consomme which has a stronger flavor than regular beef broth. If you cannot find consomme, beef broth may be substituted. It will still taste great. Mom's original recipe calls for dried parsley, too. Occasionally, when I make this recipe, I add a pinch of rubbed sage.
I believe Mom may have gotten this recipe out of her original copy of the big red plaid cookbook from Better Homes & Gardens, but I cannot remember. This is my all-time favorite recipe from her. It really is a simple recipe but the taste cannot be beat.
We loved the addition of consomme to this yummy recipe! It really packed in a lot of flavor. These meatballs are terrific on their own or served-up with a crisp salad and warm bread.
Ingredients
MEATBALLS
3 lbground beef
1white onion, diced
2eggs, lightly beaten
1 cseasoned dry bread crumbs
1/2 cfresh chopped flat-leaf parsley
2 tspcoarse ground salt
1 tspcoarse ground pepper
GRAVY
4 Tbspall purpose flour
2 10.5-OZ can(s)beef consomme
1 TbspWorcestershire sauce
2 cmilk
1 tspcoarse ground salt
1 tspcoarse ground pepper
SERVING/PLATING
12 ozmedium egg noodles, cooked according to directions
1/4 cbutter
3 Tbspfresh chopped flat-leaf parsley
 DIRECTION
Place a large nonstick frying pan over medium-high heat. While pan is heating, thoroughly mix together ground beef, diced onion, eggs, breadcrumbs, parsley, salt and pepper. Form mixture into 3/4- to 1-inch meatballs.
Brown meatballs on all sides, in batches if necessary. Use a slotted spoon to remove browned meatballs to heatproof plate, leaving drippings in pan.
Sprinkle flour over drippings and whisk until combined. Cook for 3-4 minutes or just until flour turns light golden brown.
Slowly whisk in consommé and Worcestershire. Add milk, salt and pepper while whisking constantly to prevent lumps. Cook for 5-6 minutes, stirring occasionally, or just until gravy starts to thicken. Add meatballs back to pan along with any accumulated juices; gently toss to coat meatballs. Lower heat to medium and simmer for uncovered for 10-15 minutes or just until meatballs are cooked through.
Toss hot cooked egg noodles with butter to coat. Divide noodles among six dinner plates. Top with 4-6 meatballs and some of the gravy; sprinkle with fresh chopped parsley.