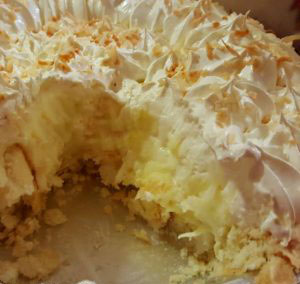 "This is a tried-and-true, old-fashioned coconut cream pie. Took many years of searching and baking to find the right one and this is it! Enjoy!"
I'm not a huge fan of food holidays. There just seem to be so many these days that I just can't keep up. That said, with undoubtedly some divine intervention, I've manage to plan to share this Old Fashioned Coconut Cream Pie on National Coconut Cream Pie Day. It's completely accidental (I wish I could plan things that well), but perfect, nonetheless.
I AM huge fan of Coconut Cream Pie and a local BBQ joint has, what I think, is the absolute best. So, when a friend of mine pointed me to this recipe, saying it was really close to that one, I immediately ran out to grab the stuff to make it.
Ingredients
1 cup sweetened flaked coconut
3 cups half-and-half
2 eggs, beaten
3/4 cup white sugar
1/2 cup all-purpose flour
1/4 teaspoon salt
1 teaspoon vanilla extract
1 (9 inch) pie shell, baked
1 cup frozen whipped topping, thawed
Directions
Preheat oven to 350 degrees F (175 degrees C).
Spread the coconut on a baking sheet and bake it, stirring occasionally, until golden brown, about 5 minutes.
In a medium saucepan, combine the half-and-half, eggs, sugar, flour and salt and mix well. Bring to a boil over low heat, stirring constantly. Cook, stirring constantly, for 2 minutes more. Remove the pan from the heat, and stir in 3/4 cup of the toasted coconut and the vanilla extract. Reserve the remaining coconut to top the pie.
Pour the filling into the pie shell and chill until firm, about 4 hours.
Top with whipped topping and with the reserved coconut.
Source: Allrecipes.com