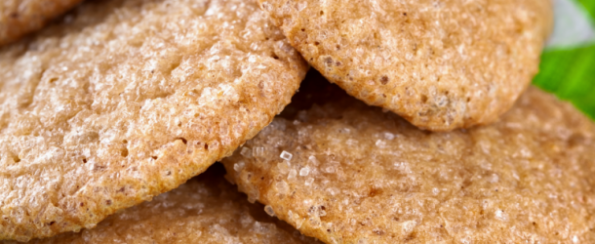 Chocolate cookies are the way to go in my home.
I mean, chocolate chip cookies, double chocolate chunk, Reese's, anything goes really! We were never fans of sugar cookies, but give them a chance every now and then. Last week, I decided to try an untraditional sugar cookie. It was a brown sugar cookie. Seems a bit strange, but I love brown sugar more than white sugar so I figured I would give it a go. And guess what? They were gooood. They were fluffy, soft and had loads of sugary goodness in them.
They were warm out of the oven and had a lovely crunch in them. The brown sugar really changes the texture of them, but for the better. After enjoying a whole batch on my own, I made another and took them over to my neighbor Anne's house. She and her boys at home at them all throughout the time I was there.
But she gave me a great serving suggestion! They served it with vanilla caramel gelato and it was the perfect combination to enjoy with these cookies. You could also have them with a cup of coffee for another great afternoon treat. Either way, you are going to enjoy these.
Our afternoon treat of brown sugar cookies was truly the best. Your kids will love these and served with ice cream, there is no better way to enjoy it. Consider making these as a surprise for when your kids get home from school! I know my children would be ecstatic to get off the bus and see a big 'ol plate of brown sugar cookies sitting on the table. Don't forget the milk! Of course, if your kids are like my son they will want coffee.
It is an awesome idea to freeze these and them enjoy them later. It is a great way to get all the work done early and then eat the rest at another time.
Who wouldn't want to pull a fresh cookie out of the freezer at any time?
Ingredients
Cooking spray
1 1/4 cup Domino brown sugar, firmly packed
1/4 cup water
3 tbsp honey
1 egg
2 1/3 cup Gold Medal flour
1 cup pecans, finely chopped
2 1/2 tsp cinnamon
1 tsp allspice
1 tsp baking soda
BROWN SUGAR GLAZE
1/4 cup Domino brown sugar
1/4 cup Domino powdered sugar
1/8 cup McArthur milk
Instructions
Preheat oven to 375F. Spray a baking sheet with cooking spray.
In a large mixing bowl, add brown sugar, water, honey and egg. Beat on high until combined.
In another large mixing bowl, stir together flour, pecans, cinnamon, allspice and baking soda. Add dry mixture to wet mixture and stir to just combined.
Drop cookies by the teaspoonful onto prepared baking sheet. Bake for 9 to 10 minutes. Place cookies on baking rack to cool.
BROWN SUGAR GLAZE
In a small mixing bowl, stir together brown sugar, milk and powdered sugar. Drizzle on top of cooled cookies.
Thank you to Oma Bakes for the wonderful photo.