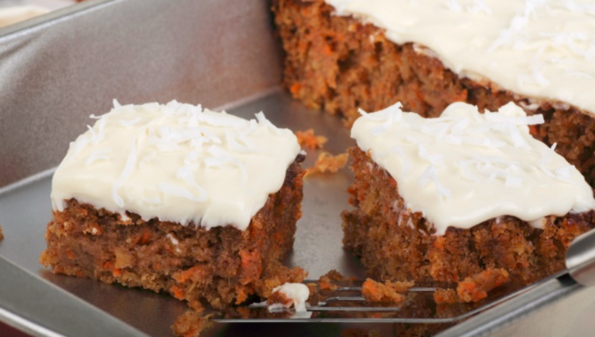 Who Needs a Complicated Dessert If a Simple One Turns Out This AMAZING
I hate doing the dishes. If that makes me sound like a lazy cook, then so be it. I just can't stand all the pots and pans and bowls all over the kitchen counter every time I make a meal or a dessert.
That's why I'm so fond of one-pan-dinners, or in this case one-bowl-cakes. No mess, no cleanup! I think I'm going to use that as my motto from now on!
This carrot cake has quickly become a staple in our house, and I intend to make it over the holidays, too. Sure, you still need a baking dish for this besides the mixing bowl. Or maybe, if you have a deep enough baking dish, you could combine and mix all the ingredients right there! I'm definitely going to give it a try next time I make this.
The icing on the cake really is the icing on the cake when it comes to this dessert. Even though the cake itself is super moist and delightful, that cream cheese icing is so yummy I wouldn't even think of leaving it out!
If you want to, you could turn this into a layered cake by baking it in two small, round pans. The bonus part would be that you'd get some extra frosting in between the layers – that stuff is GOOOOD.
But you could always just add extra frosting on top of the one pan version of this cake, to keep it simple. And that's what it's all about for me this holiday season; I want all the food and desserts to be really simple, yet absolutely delicious. This cake is just that!
Ingredients
2 cups Domino sugar
1 cup vegetable oil
4 whole Eggland's eggs
2 cups Gold Medal all-purpose flour
1/2 tsp salt
1 tsp baking soda
1 tsp baking powder
2 tsp ground cinnamon
2 cups grated carrots
1 cup walnuts, chopped
For Icing:
1 stick Land O Lakes butter, softened
8 ounces Philadelphia cream cheese
2 cups Domino powdered sugar
2 tsp vanilla
Instructions:
Preheat oven to 350F
Mix together the sugar, oil and eggs in a large bowl. In the same bowl add your flour, salt, baking powder, baking soda and cinnamon. Stir to combine. Then add carrots and walnuts and mix to combine. Do not overmix.
Pour into a greased and floured pan (bundt, sheet cake, 9 x 13 pyrex) and bake at 350F until done, 25 (sheet cake) to 50 (Bundt pan) minutes, depending on the pan you use.
Cool completely.
Icing:
In larger bowl, cream butter and cream cheese. Add sugar and vanilla and blend, then mix in the nuts. Spread on cooled carrot cake.