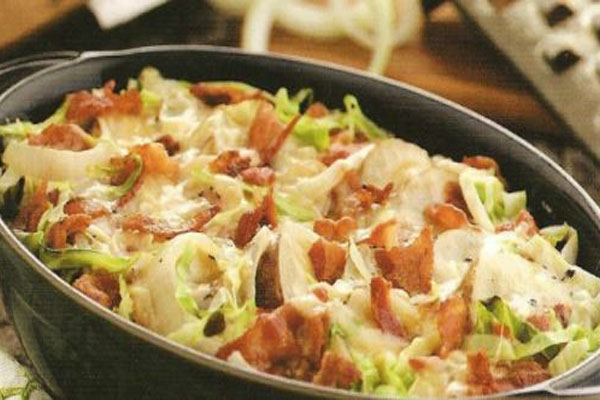 We were really struggling at home some time ago. The kids were stressed, me and my husband were stressed…it just seemed like nothing was going our way. I was at a loss of what to do to get things back on track. Then, one night, as I was lying in bed, it hit me…. a road trip to Grandma and Grandpa's house is exactly what we needed. They lived out in the country. Things were simpler there. More relaxing. There was plenty for the kids to do. It would be perfect. The next day at breakfast, I told everyone.
They seemed like they were on board. The whole 8 hours in the car didn't sound too fun, but once we got there they would be fine. I called Grandma and Grandpa and let them know our plan. They were super thrilled with the idea. The day of our arrival, Grandma had a potato and cabbage casserole coming fresh out of the oven. It was a lot like this recipe from Group Recipes.
We were starving. Even the kids gobbled this down. I was kind of shocked with the cabbage aspect and all, but they loved it. We got the reset that we needed, and tons of good ol' fashioned food while we were there!
Perhaps at the top of the list of appealing facts about this recipe is how cheap it is to make. I usually turn to this one when are struggling in the finance department. The thing is, it doesn't taste like it was cheaply made at all! Half the ingredients I already have on hand most of the time, and I can usually get out of the grocery store for under $10 with the other half, if not less! My family really enjoys it too, so that's a winner in my eyes! Check out what they are saying about this recipe over at Group Recipes:
"Another comfort food, everyone will want a second helping of this hearty casserole."
This makes about six servings, so make sure that you prepare enough to go around… twice!
Ingredients
3 med. potatoes scrubbed
1/2 cup sliced onion
2 TBSP Gold Medal all-purpose flour
1/2 tsp dried thyme
1/2 tsp salt
1/2 cup milk
6 cups shredded green cabbage
1 cup shredded Sargento Swiss cheese
Instructions
Combine potatoes with water cook until tender. about 30 min. Cut potatoes into slices.
Preheat oven to 375 degrees. Spray a 3 qt. round baking dish with cooking spray.
Saute onion in reserved drippings until tender. Stir in flour,thyme and salt.
Layer cabbage,potatoes,swiss one half at a time in baking dish. Bake,covered for 30 min. remove cover. Bake until cabbage is tender, about 20 min.
From: http://reciperoost.com/2017/05/02/papas-potato-cabbage-casserole-ultimate-comfort-casserole/