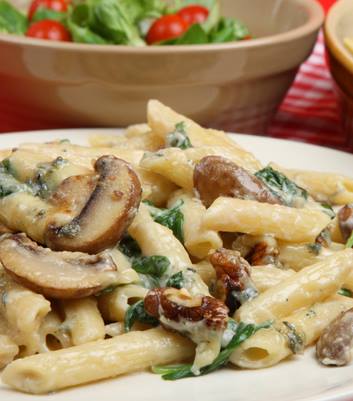 Pasta is one of those dishes we never tire of. There are so many possible variations, you'll never run out of ideas and you can still be wow-ed with a delicious sauce. Pasta Florentine is one of those tried-and-true recipes that always tastes good and is easy to make: the "Florentine" element being the creamy mushroom and spinach sauce that perfectly coats the pasta. (Chicken or salmon Florentine are also tasty options, but require a little more effort in terms of preparation and attention.)
This meal is a great choice because it's simple to make, but has lovely presentation and can be whipped up for a fancier dinner or special occasion we don't know about you, but we love dishes that look and taste beautiful without having to spend hours making them!
Serves 4-6
Ingredients
8-10 oz. penne pasta
3 cups medium mushrooms (shitake or porcini), stems removed, sliced
3 cups spinach
1 cup heavy cream
3/4 cup Parmesan cheese
1/2 cup walnuts, roughly chopped
1 tablespoon freshly squeezed lemon juice
1 tablespoon extra-virgin olive oil
kosher salt and freshly ground pepper, to taste
Directions
Bring a large pot of generously salted water to boil.
Heat 1 tablespoon olive oil in a large pan or skillet over medium heat and saute mushrooms, seasoned with salt and covered, for 15-20 minutes, or until softened.
Stir occasionally and reduce heat if mushrooms start to burn.
Add spinach to mushrooms and pour in lemon juice. Cook until wilted, then add walnuts.
Cook pasta according to packaging directions, or until al dente. Drain (reserving 1/2 cup pasta water) and set aside.
Add heavy cream to the spinach and mushrooms, stirring well, and mix in Parmesan cheese. If sauce is too thick, add pasta water one tablespoon at a time.
Taste and season with salt and pepper, if necessary.
Pour drained pasta into the sauce and toss well to coat thoroughly. Cook on low heat for 5 minutes, or until sauce thickens and sticks to pasta.
Transfer to serving plates, garnish with more Parmesan and serve hot.