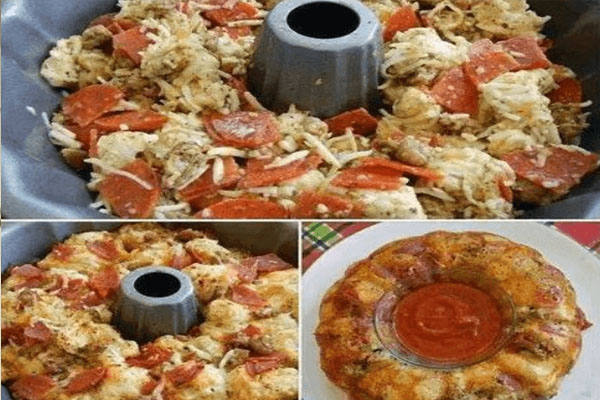 I'm always looking for fast and easy recipes and this one definitely fits the bill! Try this Easy Pull Apart Pizza Bread recipe!
It goes nicely with a side of pizza sauce as a dip too! Get creative with the dips. You can use ranch, blue cheese or any of your favorite pizza, pasta or marinara sauces!
I used my favorite bundt pan to make this one. Be sure to spray it with a non stick cooking spray and beware that the cheese does stick to the edges of the pan. I used a knife to separate the bread before I flipped the bread onto a plate and it worked out just fine. I think my bundt pan really helped though.
Ingredients
2 Cans of Pizza Dough or Biscuits
2 cups Mozzarella cheese (or your favorite cheese)
2 tablespoons of a really good Italian seasoning or parsley flakes
⅓ cup olive oil
1 – 8 oz package of pepperoni (we used the turkey)
1 cup Parmesean cheese
Optional: Add a ½ teaspoon of fresh garlic or garlic powder (it's amazing)
Instructions
Preheat the oven to 350 degrees
Cut pizza dough or biscuits into quarters (as shown in the photo)
Cut the pepperoni into smaller pieces
Mix all the ingredients in a bowl and toss so that the oil is spread evenly on each piece of dough
Bake for about 30 minutes (or until the top is brown and the center is thoroughly cooked) TIP: Be sure to check it in the middle before you pull it out. If the middle is still not cooked thoroughly be sure to leave it in another 5 minutes at a time until it's done.
Flip over on to a plate while it's still hot.
Serve with a side sauce and enjoy!
From: https://sweetandsimpleliving.com/easy-pull-apart-pizza-bread/