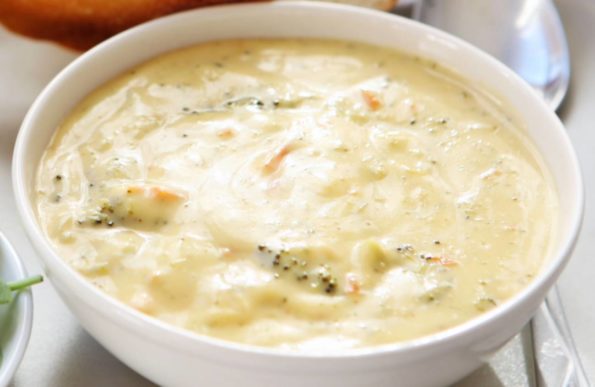 As tempting as it is to grab a canned soup at the grocery store, we highly recommend heading to the produce and dairy aisles to grab some fresh ingredients for one of our favorite soups: broccoli cheddar soup. The scratch-made difference is huge here, especially in a creamy soup like this.
When you make this at home, you'll quickly realize that while canned soup is certainly delicious and convenient, pretty much nothing beats homemade. While broccoli is certainly the star of the show, the creamy, cheesy soup is essential to the success of the recipe. Roasted broccoli not only softens the broccoli but it also adds a wonderful woodsy flavor to the vegetable. We season ours with the simple trifecta of olive oil, salt, and pepper then roast it until the tips of the broccoli are just blackened, anything beyond that will make the broccoli taste bitter so keep an eye on it as it roasts in the oven.
Now for the cheesy soup…we use a sharp cheddar cheese here for the nice saltiness and bite that it offers. Sautéed onions and garlic add yet another layer of flavor to the cheesy soup. The roasted broccoli is stirred into all this cheesiness and is ready to be scooped into our bowls and gobbled up. A homemade broccoli cheddar soup is so satisfyingly hearty, definitely rich and creamy, and 100% fresh-tasting. If you're a fan of cheesy soups or chowders, then this roasted broccoli white cheddar soup is right up your alley!
1 hour to prepare serves 4
INGREDIENTS
3 cups broccoli florets
1 small yellow onion, diced
3 cloves minced garlic
3-5 cups chicken broth
2 cups half-and-half
¼ cup all-purpose flour
2 cups sharp white cheddar cheese
¼ cup Parmesan cheese, grated
1 teaspoon dried thyme
2 tablespoons unsalted butter
3 tablespoons olive oil
Kosher salt
Black pepper
PREPARATION
Preheat oven to 400°F. Line a baking sheet with aluminum foil and coat with cooking spray.
Place broccoli evenly over pan and drizzle 2 tablespoons olive oil over top. Sprinkle 2 teaspoons kosher salt and 1 teaspoon black pepper and toss broccoli until evenly coated. Roast for 15-20 minutes or until tips of broccoli starts to blacken. Remove from oven and set aside.
Melt 2 tablespoons butter and with 1 tablespoon olive oil in a large stockpot. Sauté onion until translucent. Add minced garlic and sauté until fragrant, about 1 minute.
Whisk in flour until well combined. Add chicken broth, and thyme. Bring to a low boil then reduce heat to a simmer. Add half-and-half and stir until well blended.
Add Parmesan cheese, then slowly add cheddar cheese, ⅓ at a time, stirring to melt into the soup.
Stir in broccoli florets, then cover partially for 15-20 minutes. Stir again just prior to serving.
Recipe adapted from The Cozy Cook.