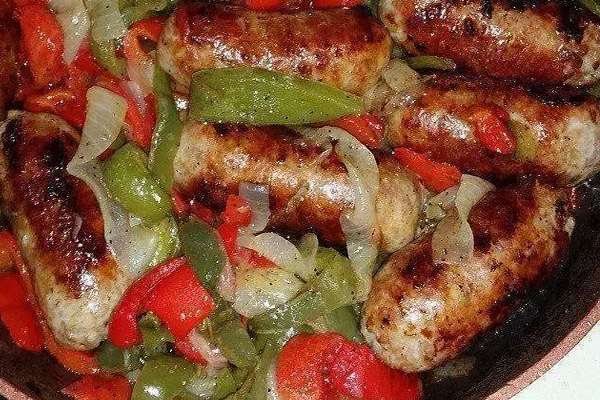 Yesterday, I was home alone, so I wanted to cook something simple for myself. I made this sausage with peppers and onions, it was very good!
Mmmmm. Mmmmm. Mmmmm. Sausage, peppers, and onions. This is one of those classic Italian American street-food, lunch cart dishes.
I used to order them at a hole-in-the-wall lunch counter in Burbank, you know the type of place where the big loud guy behind the counter works fast and furious, takes your order (you better know what you want!) and barks it back to the guys on the line, and within minutes you have a huge bread roll in your hand holding more sausage, peppers, and onions than you think you can possibly eat.
You'll Need:
2 lbs of red potatoes.
2 large bell peppers.
1.5 onions.
6 hot Italian turkey sausages (20 oz).
1 tsp of garlic powder.
1 tsp of dried and crushed rosemary.
1 tbsp of olive oil.
Salt and pepper.
How to:
First clean the vegetables and cut the potatoes into ½' to ¾' pieces and cut the onions and peppers into 1' pieces.
Place the veggies in a large bowl and toss with olive oil, garlic powder, rosemary, salt and pepper.
Cut the sausages into 5 to 6 pieces each and refrigerate.
On a greased sheet pan, spread the veggies and bake in a preheated oven to 375° for 20 minutes.
Take out the pan and top the veggies with the sausage and bake for 35 more minutes. Toss halfway through.
Easy, peasy and delicious! I like this dish with eggs, so I cooked an egg on the side of the veggies, it was amazing!