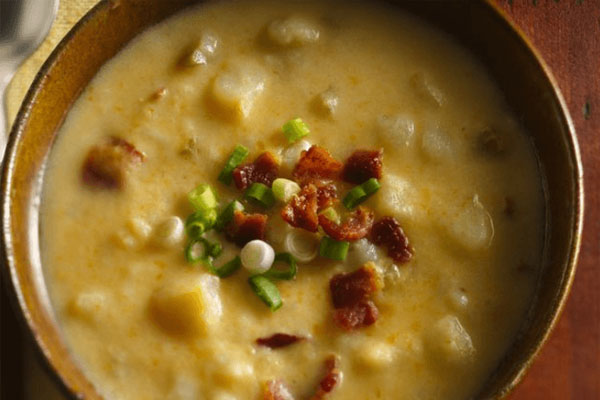 Ingredients
Reynolds™ Slow Cooker Liners
1 bag (32 oz) frozen southern-style diced hash brown potatoes, thawed
1/2 cup frozen chopped onion (from 12-oz bag), thawed
1 medium stalk celery, diced (1/2 cup)
1 carton (32-oz) Progresso™ chicken broth SAVE $
1 cup water
3 tablespoons Gold Medal™ all-purpose flour
1 cup milk
1 bag (8 oz) shredded American-Cheddar cheese blend (2 cups)
1/4 cup real bacon pieces (from 2.8-oz package)
4 medium green onions, sliced (1/4 cup)
Powered by Chicory
Steps
1 Place Reynolds™ Slow Cooker Liners inside a 5- to 6 1/2 -qt slow cooker bowl. Make sure that liner fits snugly against the bottom and sides of bowl and pull the top of the liner over rim of bowl.
2 In lined slow cooker, mix potatoes, onion, celery, broth and water.
3 Cover; cook on Low heat setting 6 to 8 hours.
4 In small bowl, mix flour into milk; stir into potato mixture. Increase heat setting to High. Cover; cook 20 to 30 minutes or until mixture thickens. Stir in cheese until melted. Garnish individual servings with bacon and green onions. Sprinkle with pepper if desired.