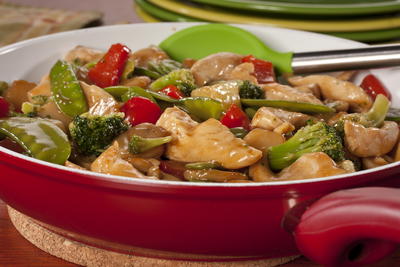 Looking for a veggie-packed all-in-one chicken dish? This is it! This skillet meal takes no time to whip together. And, with its great color and nutrition plus authentic Asian flavor, it's sure to be a hit.
What You'll Need
2 tablespoons canola oil
1 1/2 pound boneless, skinless chicken breasts, cut into thin strips
1 (20-ounce) can pineapple chunks in syrup, drained and liquid reserved
1 (8-ounce) can sliced water chestnuts, drained
1 cup fresh broccoli florets
1 medium-sized red bell pepper, cut into 3/4-inch chunks
2 tablespoons low-sodium soy sauce
1 tablespoon white vinegar
1 tablespoon ketchup
2 tablespoons cornstarch
1 tablespoon sugar
1 cup fresh snow peas, trimmed
What to Do
In a large skillet or wok, heat oil over high heat. Add chicken and stir-fry for 4 to 5 minutes, or until no pink remains.
Add pineapple chunks, water chestnuts, broccoli, and red pepper. Stir-fry for 3 to 4 minutes, or until the vegetables are crisp-tender.
In a small bowl, combine the reserved pineapple liquid, the soy sauce, vinegar, ketchup, cornstarch, and sugar; mix well. Stir into skillet or wok and cook 3 minutes. Add snow peas and cook 1 minute, or until sauce has thickened. Serve immediately.