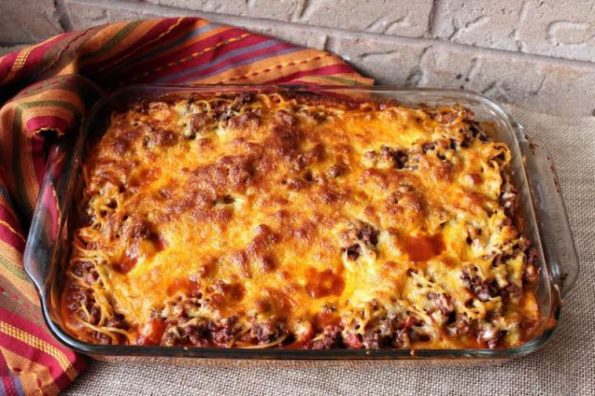 Cheesy taco spaghetti casserole is the ultimate dinner comfort food. Cheesy pasta loaded with taco seasoned ground beef, chili beans, and tomato. Bakes in one pan, serves a crowd, and the leftovers are fabulous for another meal!
The top 2 most popular recipes on the blog are both casseroles! This creamy beef noodle bake and this country beef tomato casserole. I knew I had to post some more casserole recipes because y'all love them and I enjoy making them as it's usually the one thing we can all agree on at the dinner table.
I love casseroles because they make a big pan of food, they serve a crowd (or a large family), they're usually inexpensive which means the ingredients won't blow the grocery budget, and the leftovers are so good for another dinner or lunches through out the week.
This cheesy taco spaghetti casserole is a family favorite. More important it's super kid-friendly. It's one of those meals that I know my kids will eat with no whining, so it's always a winner in my book.
Brown some ground beef in a skillet pan and then add a packet of taco seasonings and a few other ingredients. While the sauce is simmering boil some pasta noodles. Combine the sauce and the noodles together and then pour into your baking dish. And of course, because you can never have too much cheese, add a little bit more cheese on top 🙂
To Make this Recipe You'Il Need the following ingredients:
Ingredients
1 box (1 lb) thin spaghetti noodles
1 lb lean ground beef
1 packet taco seasoning
1/4 cup water
1 can (15 oz) chili beans, undrained
1 can (15 oz) tomato sauce
8 oz velveeta cheese, cubed
1 cup shredded cheese
chopped tomato & green onion for garnish
Instructions
Heat oven to 350 degrees. Prepare a 9×13 baking dish and spray with cooking spray.
In a skillet pan, cook ground beef over medium-high heat until no longer pink. Drain and return to pan.
Add the taco seasoning and water to the beef, stir until combined together.
Add the undrained chili beans, tomato sauce, and chunked Velveeta cheese. Stir together and let the Velveeta melt. Turn heat to low and let simmer while the pasta cooks.
Meanwhile, cook pasta according to package instructions. Remember to salt your water so your pasta has some flavor!
Drain pasta when done and add to the taco beef mixture. Stir together and dump into the prepared baking dish. Top with the shredded cheese.
Cook for 20 minutes. Garnish with chopped tomato and green onion.
Recipe Notes
Use any type of shredded cheese for the topping. I normally use Colby Jack because I always have that in the fridge.