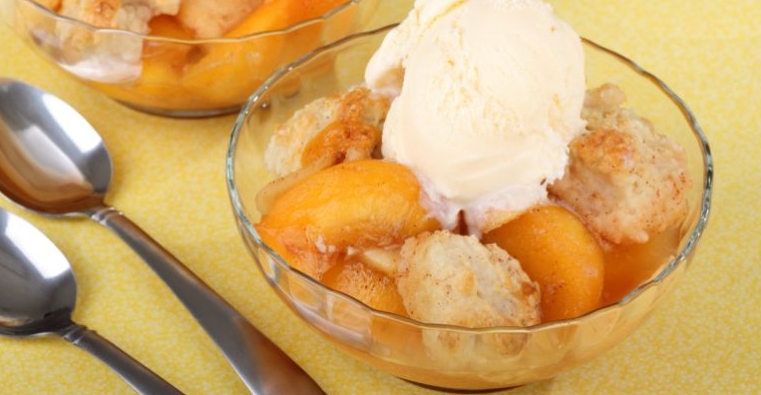 My husband absolutely loves peach cobbler. He finds the sweetness of it, plus the crumb topping to be such an amazing conversation.
And my anti-ice cream loving husband adores ice cream with this. He just takes the whole tub and takes a spoonful of cobbler and dips it in the ice cream every single time. I end up with chunks of cobbler in my pint of ice cream, but I don't mind. I love cobbler and ice cream, too!
The best part about this recipe…can you guess? Yep, if you know me, my favorite recipes are SLOW COOKER RECIPES! They are easy, yet so full of flavor and make the house smell great! It is truly a simple and fun way to have a dessert made every day of the week.
It doesn't take much work, but it really feels like you put a lot into it. So absolutely delicious and worth making. Also, did I mention the awesome smell that will come over your home? yeah, keep that in mind. ?
Peach cobbler is really a summer dessert, but I mean who doesn't love it year 'round? A nice warm cup of it can really feel like a great fall dessert. Try it as you prepare for dinner tonight. Your family will love you for it! I really enjoy getting fresh peaches from the farmer's market and making this lovely dessert. You can use canned peaches if that is what you have on hand but if you have fresh, please treat yourself to the incomparable sweetness.
I think I'll whip up a batch of this cobbler for my next church potluck.
Ingredients
4 cups sliced peaches, frozen
3/4 cup Domino Brown Sugar
2 teaspoons McCormick Cinnamon
1 Betty Crocker Yellow Cake Mix
1/2 cup Land O' Lakes butter (1 stick)
Instructions
In a bowl, mix together peaches, McCormick cinnamon, and Domino brown sugar, until all the peaches are coated.
Dump peaches into Slow Cooker.
Sprinkle Betty Crocker yellow cake mix over peaches, covering all the peaches. Use the whole cake mix.
Slice the butter into small pieces and lay over the cake mix. The whole cake mix should basically be covered in sliced butter.
Cook on high for four hours, or until the cake turns golden brown.
From: recipepatch