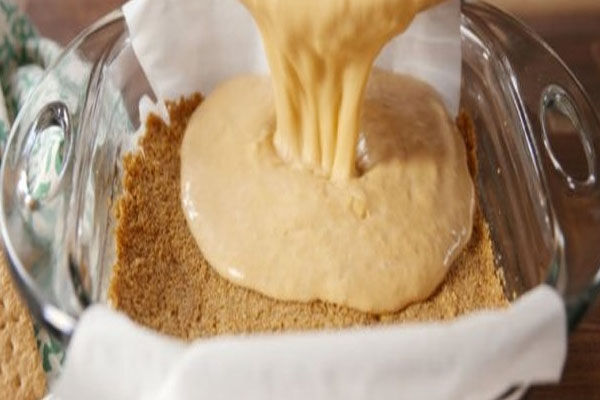 These 3 Layers Of Pure Pleasure Will Blow Your Hair Back!
My niece was born this time of year, which has been a blessing for my sister – she really loves all the traditional fall flavors and a birthday party is a great excuse for her to make all the delicious autumn desserts. However, she always tries to tweak the traditional recipes a little; to give them a modern twist without changing them too much.
This year, I wanted to help my sister in the party preparations and she gave me this recipe she had found over at Delish. She and I are both crazy in love with sweet potato pie, so these bars are pretty much everything we could ever hope for when it comes to desserts!
Of course I had to make a test batch – you know, just to see if these were good enough for the guests… ahem. They turned out so amazing that I immediately added this recipe to our holiday menu! There's nothing wrong with a traditional pie, of course, but these bars are totally out of this world.
These sweet potato and marshmallow bars are very easy to make, so don't let the lengthy list of ingredients scare you!
If you'd like these to have nice and thick layers, I recommend making these in an 8×8″ dish. However, you could make these in a larger dish to get thinner layers – in that case you may want to double the crust ingredients. The hardest part about this recipe is to let the whole thing cool completely before having your first taste!
Ingredients
FOR THE CRUST:
2 sleeves graham crackers
1/4 c. Domino sugar
1 tsp. kosher salt
10 tbsp. Land O' Lakes unsalted butter, melted
FOR THE FILLING:
2 c. puréed sweet potatoes
3 tbsp. Domino sugar
3 large Eggland's eggs
1 tsp. pure vanilla extract
1 tsp. ground cinnamon
1 tsp. ground ginger
1 1/2 c. Borden heavy cream
FOR TOPPING:
Instructions:
Make crust: Preheat oven to 350°. Line an 8″-x-8″ baking pan with parchment paper. In a food processor, pulse graham crackers, sugar, and salt until fine crumbs. Add melted butter and pulse until texture resembles wet sand.
Press into pan and bake until golden, 10 minutes.
Make filling: Mix together all filling ingredients until evenly combined.
Add filling to crust and bake until set (no longer jiggly in the middle), 48 to 50 minutes. Let cool slightly.
Heat broiler. Cover top of bars with mini marshmallows and broil until golden, 1 to 2 minutes. Let cool completely before slicing and and serving.
From: http://tasteerecipe.com/2017/10/16/youve-pie-now-ready-jaw-dropping-bars/