The Absolute Best Coconut Cream Pie. Truly the absolute best! A creamy, old-fashioned coconut cream pie recipe that this avid baker has used for over 30 years. I have never tasted a better recipe.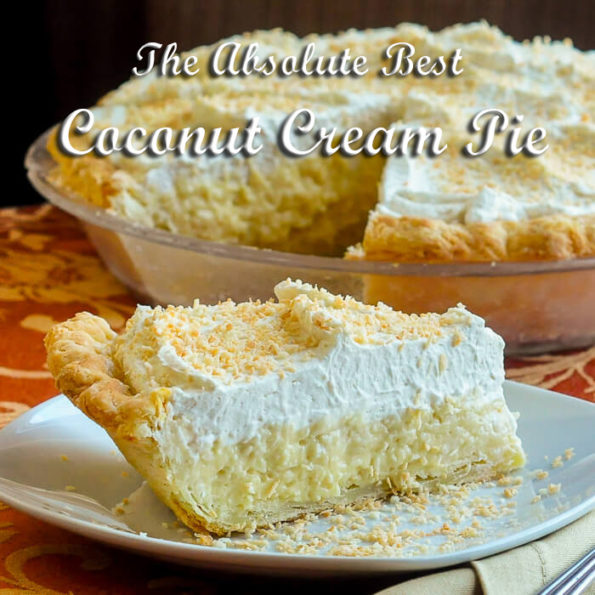 Although I love coconut cream pie, I never order it in restaurants because of decades of being served gelatinous slop that bore little resemblance to the real thing. I have been making this pie since I was 12 years old and have yet to sample better; nor do I hope to.
This is quite an old fashioned recipe for this classic pie which is based upon a flour thickened, pudding-like custard pie filling. I despise versions of this recipe that are thickened with corn starch. The texture just isn't right.
A proper coconut cream pie should be velvety and creamy, not jelly like at all. This recipe gets it right and the results are well worth the effort. This recipe is continuously in our TOP 10 ever published on Rock Recipes, even after 7 years and over 1300 recipes published. It gets many rave reviews and everyone who tries it loves it. This is the recipe you've been looking for.
2016 update: This recipe has never wavered in popularity in all the time it has been posted on this website. It gets continuous rave reviews and is still consistently in our top ten recipes, even after 9 years online.
There's a very good reason why it's so popular. You'll thank yourself for discovering why.
Ingredients
For the pastry
1 cup very cold butter cut into small cubes
2 ½ cups flour
½ tsp salt
1/4 cup to 1/3 ice water Only enough to make a dough form.
For the coconut cream filling
3 cups whole milk
1/3 cup flour
2/3 cup sugar
pinch of salt
1 cup unsweetened fine coconut
3 slightly beaten extra large egg yolks
4 tbsp butter
2 tsp vanilla extract
1/4 tsp pure almond extract
For the vanilla whipped cream
1 cup whipping cream
1 tsp vanilla extract
3 tbsp icing sugar powdered sugar
US Customary – Metric
Instructions
For the pastry (sufficient for 2 pie shells)
Using a food processor or a pastry blender cut cold butter into flour and salt until mixture resembles a coarse meal. Small pieces of butter should still be visible.
Pour cold water over the mixture and work in by tossing with a fork until dough begins to form. Use your hands as little as possible and work the dough as little as possible.
Divide dough into 2 balls, flatten into 2 rounds, wrap in plastic wrap and place in the refrigerator to rest for a minimum of 20 minutes. You can freeze the second round for another time.
You can make your dough the previous day but make sure you take it out of the fridge for 10 -20 minutes to warm slightly before rolling out.
Roll the dough into a 12 inch round and place in the bottom of a 10 inch pie plate.
Trim and flute the edges as desired.
Poke a few holes in the bottom of the pastry shell, rest in the refrigerator for an additional 20 minutes before baking at 400 degrees F for 12 – 15 minutes or until golden brown.
Cool completely before adding the filling.
For the coconut cream filling
Scald the milk in the microwave or on the stove top to almost boiling. Microwave works best as there is no chance of burning the milk.
Meanwhile, in a saucepan combine the flour, sugar, salt and coconut.
Over medium low flame slowly add 1 cup of the scalded milk, whisking constantly.
As you notice the filling beginning to thicken, add another cup of the scalded milk continuing to stir constantly until it begins to thicken again.
Add the final cup of scalded milk, stirring constantly. Continue to cook over medium low heat until mixture begins to slightly thicken.
At this point remove from heat and pour about a half cup of this mixture onto the beaten egg yolks, whisking constantly.
Pour the egg mixture immediately back into the pot, continuing to constantly stir.
Cook for an additional two or three until the filling reaches pudding consistency and remove from the flame. The mixture should just be beginning to boil at this point.
Stir in the butter, vanilla and almond extract.
Cool for about 20 minutes before pouring into the baked pie shell/s.
Chill the pie/s completely for several hours or overnight before adding the vanilla whipped cream.
For the vanilla whipped cream
Combine the whipping cream, icing sugar and vanilla extract and beat to soft peaks. Spread on top of the cooled coconut cream filling. Garnish with toasted coconut and serve.
The nutritional information provided is automatically calculated by third party software and is meant as a guideline only. Exact accuracy is not guaranteed. For recipes where all ingredients may not be used entirely, such as those with coatings on meats, or with sauces or dressings for example, calorie & nutritional values per serving will likely be somewhat lower than indicated.