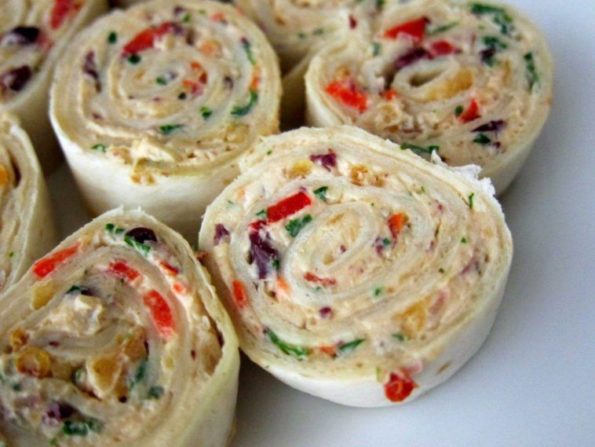 Cream Cheese Ranch Rollups are the easiest and most popular appetizer you could ever make. Rich cream cheese, ranch dressing mix and veggies all rolled into tortillas – these will disappear in a flash at any party!
Cream Cheese Ranch Rollups are a true Midwestern gift.
The recipe originates from my grandmother. When she gave the recipe to my mother, she said, "This is an appetizer that everyone loves. Men, women, kids…everyone adores these."
And she was right.
I have lost count of how many times I have made these over the years. Any time there is a gathering that we need to take food to, I almost always end up making a batch of these. Sometimes I really go whole-hog and make a double batch.
Why make twice as many ranch rollups? Because one batch will disappear almost as fast as you can slice them. I promise you that I am not exaggerating.
If you are from the Midwest, you are probably already familiar with the "pinwheel" concept. Pinwheels – tortillas rolled around some kind of filling, usually of the meat and cheese variety – are a party staple in this part of the country. You can't throw a proper party around here without pinwheels making an appearance.
Cream Cheese Ranch Rollups are like pinwheels taken to a whole other level.
Ingredients
2 packages of Philadelphia cream cheese (8 oz)
1 can chopped black olives – however small or large you like. I used
the smaller can.
2 cans diced green chilies – small can
Azteca tortilla wraps
Instructions
Let your cream cheese get to room temperature then mix all of your ingredients together (minus the tortillas). Lay your tortillas out and spread a decent amount of cream cheese mixture in them. The more you do the more you'll get a hang of how much is going to fit in whatever size tortilla you're using.
Roll them up as tightly as you can, some filling will most likely come out. Repeat;
Once you have all of your tortillas filled and rolled wrap them in parchment paper and put them in the fridge for several hours or overnight.
Once they've chilled you'll start slicing them into bite size…well, bites . I usually just cut the ends off since the filling doesn't reach the ends perfectly.
Source: AllrecipeS.com