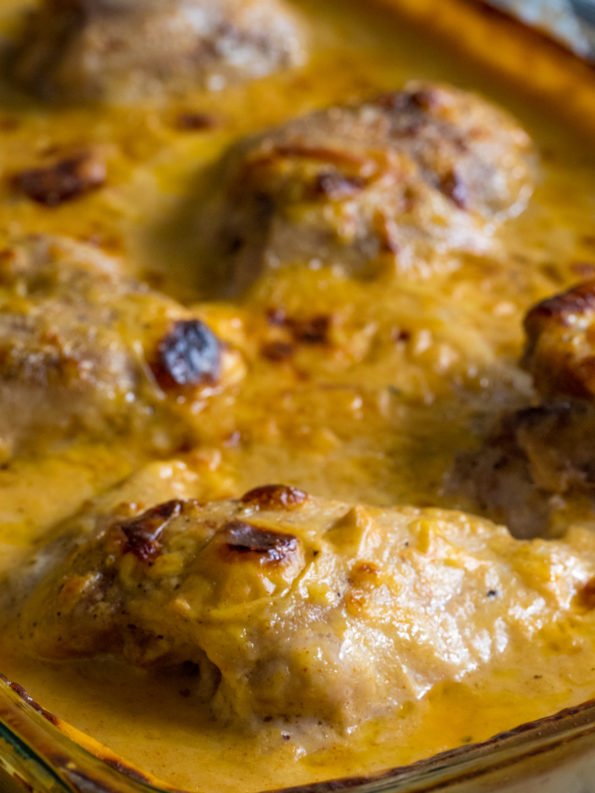 You know those dishes that are just comforting? You know, the ones that are warm and bubbly, filling, taste amazing and just make you feel good? Well we've got one of those for you today. Southern smothered chicken. That's right, this is a good ol' fashioned chicken and rice recipe, but this one's been reinvented a bit to have maximum flavor. Trust us, you'll love it. Using condensed soup as the base of what makes our chicken "smothered chicken," we added plenty more seasoning to make sure that we ended up with a nice, round depth of flavor, then layered our chicken thighs – so, so flavorful and amazing in this recipe – over a bed of rice, topping it with this sauce.
Everything bakes together to absolute perfection and you're left with a dinner that everyone will love, that you can turn to anytime. While you're welcome to use any condensed soup you like (mushroom would be really good too), we like using the cream of cheddar and cream of herbed chicken to bring extra cheesiness and more herby goodness to the dish. Cooking the chicken like this, smothered in a thick and creamy sauce, means your chicken is moist and cooked perfectly every time, plus all the juices and flavors drip down into the rice, so you've got an amazing side dish basically baked into your main course. Win-win!
50 minutes to prepare serves 6-8
INGREDIENTS
6-8 chicken thighs (boneless, preferred)
2 (10.75 oz.) cans condensed cream of cheddar soup
1 (10.75 oz.) can condensed cream of herbed chicken
3 cups cooked white or brown rice
1 1/2 cups milk (whole or 2%)
1 cup sharp cheddar cheese, grated
5 cloves garlic, minced
1 teaspoon onion powder
1 teaspoon paprika
1/4 teaspoon red pepper flakes
Kosher salt and freshly ground pepper, to taste
Bacon bits, garnish, optional
PREPARATION
Preheat oven to 350º F and lightly grease a 9×13-inch baking dish with non-stick spray.
In a large bowl, combine cheddar and herbed chicken soups and whole milk and whisk until combined, then whisk in garlic, onion powder, paprika and red pepper flakes. Optional: stir in cheddar cheese if you don't want to top the casserole with it later.
Spread cooked rice out on the bottom of greased baking dish, then top with chicken thighs. Season liberally with salt and pepper.
Pour soup mixture over chicken and rice, making sure everything is evenly coated, then top with cheddar cheese (if you didn't already stir it into sauce) or bacon bits, if using.
Place baking dish in oven and bake for 45-50 minutes, or until chicken is cooked through.
Remove from oven and serve hot.
Recipe adapted from South Your Mouth