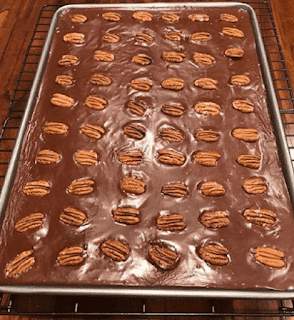 Texas turtle sheet cake – it's unapologetically decadent and we absolutely love it for that. It seems impossible to think there are some who haven't tasted the glory that is Texas turtle anything, but if you were going to make any sort of iteration on this classic, let it be this amazingly delicious Texas turtle sheet cake. A rich, chocolate and coffee-flecked cake, topped with a buttermilk chocolate frosting (YUM), then topped off with caramel sauce, chocolate chips and pecans (or walnuts, if that's what you've got on hand). Holy guacamole, guys, this stuff is good.
If you wanted to cut some corners, you could use a store-bought cake mix, but if you've got the time…man, this from-scratch cake is really something. We use a cup of coffee to add a special depth of flavor, then we use buttermilk to add a tiny bit of tang and keep things super moist – no dried out cake here! You might find the color of the cake to be a little lighter than your average chocolate cake, but don't worry, there's just as much flavor – if not more – packed in there to shake up your taste buds. And that's just the cake, we haven't even gotten into the frosting and topping of this bad boy!
Not only do we use buttermilk in the cake, it also plays a role in the frosting, and let us tell you, this stuff is addictive and quite possibly our favorite chocolate frosting. Buttermilk wouldn't be our first guess of star ingredients, but it really balances out the flavors here in this cake. We mentioned that it adds tang, but it also balances out all the sweetness of the recipe and keeps this cake from being too sweet or cloying. Once you pile on the caramel sauce and chocolate chips and nuts, the buttermilk and coffee are what keep this cake on the rails – bottom line: you need this cake and you need it now!
Ingredients:
2 cups granulated sugar
2 cups self-rising flour
1 cup butter
1 cup strong black coffee
1/3 cup unsweetened cocoa powder
2 eggs
1/2 cup buttermilk
Chocolate frosting:
1/4 cup butter
4 tablespoons buttermilk
3 tablespoons unsweetened cocoa
2 1/2 cups powdered sugar
Turtle Topping:
1/2 cup chopped pecans
1 cup semi-sweet chocolate chips
1 cup caramel sauce, to drizzle
Directions:
1. Preheat oven to 350 degrees. Grease and flour the pan or use parchment paper. In a large bowl, combine self-rising flour and granulated sugar. Set aside.
2. In a saucepan, combine 1 cup butter, 1 cup coffee, and 1/3 cup cocoa. Bring to a boil, stirring constantly. Pour into the prepared dry ingredients. Using a hand-held mixer, mix on medium speed until wet and dry ingredients are thoroughly combined. Add eggs and the 1/2 cup of buttermilk. Mix on medium speed for another minute or so, until well combined.
3. Pour into baking pan, and bake for 25-30 minutes. When cake is done baking, a toothpick or fork inserted into the middle of the cake should come out clean.
4. Prepare the frosting. In a medium saucepan, combine 1/4 cup butter, 4 tablespoons buttermilk, and 3 tablespoons unsweetened cocoa powder. Bring to a boil over medium heat, stirring constantly.
5. Remove from heat and use a wire whisk to gradually mix in powdered sugar, a 1/2 cup at a time.
6. Spread or pour the warm frosting over the cake. While the cake is still warm, sprinkle with chopped pecans, and chocolate chips. Drizzle with caramel sauce.
Source : allrecipes.com