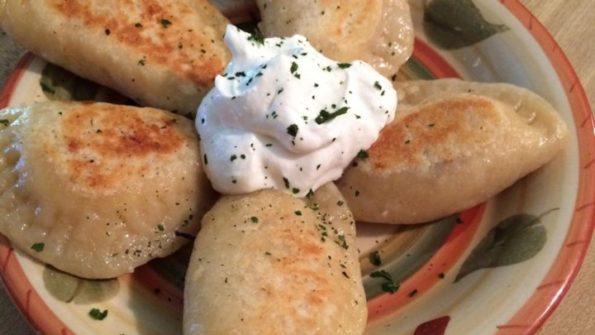 Reviews for: Grandma's Polish Perogies
Because it can be quite time consuming making perogies, here's a suggestion. Make your filling the day before. That way you only have to mess with the dough the day you are going to make them. Also, after boiling the perogies, we always saute them with butter and onions before eating. Fry perogies until a light golden brown. Little crispy on the outside and soft on the inside. Don't burn your onions. gently saute until translucent. A dollop of sour cream when serving is a nice additon.
Two suggestions that make go from alright to WOW! 1) After boiling the perogies remove from the water and fry them with a small amount of oil until browned on both sides. 2) Top with cottage cheese. By themselves, they are a bit bland, but with the cottage cheese they are fantastic. For the filling, I omitted the prepared cheese sauce and added more grated cheese and a little milk & butter. We liked them so much that we wanted to have family dumpling cook-off, trying different types of filling. With some leftover dough we made dessert dumplings filled with cherry pie filling which were also very good.
This was OUTSTANDING!!!!! I have never made perogies before, and was extremely hesitant after reading ALL the reviews. Even hubby said to just go to the store and buy a bag! Which, of course, to me was an invitation to an immediate challenge!! It took some doing, but 4 hours later~VOILA!! Very time consuming, as I was all alone, but I highly recommend an assembly line of family members to quicken to project!! I, on the other hand, love to do it all myself, taking all the praise…HAHA!! Luckily, they were an IMMENSE hit with my family, even my 11 year-old, who never eats perogies, EVER!!! I must say that rolling out the dough was a struggle, then I cut them into perfect circles, which shrunk to 1/2 the size once I picked them up. Easy to fix, just mashed them down with my fingers, kind of like pizza into a pan. I then overstuffed them and pinched closed with floured fingers, and froze. I ended up with 58 perogies and still extra filling, which I froze for later use, and I made it with mashed potatoes, cheddar, real bacon, fried onions, salt, pepper, garlic and onion powder. YUMMY!!! My husband and his buddy who is here from Newfoundland, went on for hours about them and my cabbage rolls. The best compliment is when they say " this is even better than my mom's!!" LOVE THAT! Permanent recipe in my rotation and thanks a bunch, ever so much!! LOVELY!!!
"My grandfather is Polish, and his mother taught my grandmother how to make these delicious perogies. The recipe has been in the family for generations, with a few alterations of course! Serve plain, or with butter, sour cream, bacon, etc. Perfecting the perogie technique takes time, and after a while, you will develop your own system."
Ingredients
4 1/2 cups all-purpose flour
2 teaspoons salt
2 tablespoons butter, melted
2 cups sour cream
2 eggs
1 egg yolk
2 tablespoons vegetable oil
8 baking potatoes, peeled and cubed
1 cup shredded Cheddar cheese
2 tablespoons processed cheese sauceonion salt to taste (optional)
salt and pepper to taste
Directions
Prep: 2 h- Ready In:2 h
In a large bowl, stir together the flour and salt. In a separate bowl, whisk together the butter, sour cream, eggs, egg yolk and oil. Stir the wet ingredients into the flour until well blended. Cover the bowl with a towel, and let stand for 15 to 20 minutes.
Place potatoes into a pot, and fill with enough water to cover. Bring to a boil, and cook until tender, about 15 minutes. Drain, and mash with shredded cheese and cheese sauce while still hot. Season with onion salt, salt and pepper. Set aside to cool.
Separate the perogie dough into two balls. Roll out one piece at a time on a lightly floured surface until it is thin enough to work with, but not too thin so that it tears. Cut into circles using a cookie cutter, perogie cutter, or a glass. Brush a little water around the edges of the circles, and spoon some filling into the center. Fold the circles over into half-circles, and press to seal the edges. Place perogies on a cookie sheet, and freeze. Once frozen, transfer to freezer storage bags or containers.
To cook perogies: Bring a large pot of lightly salted water to a boil. Drop perogies in one at a time. They are done when they float to the top. Do not boil too long, or they will be soggy! Remove with a slotted spoon.