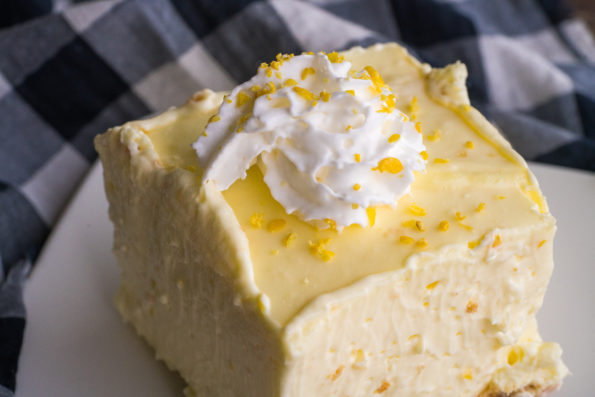 The bright flavor of lemon just pairs so well with something creamy, doesn't it? That's what happens here in our No-Bake Lemon Cheesecake Bars. It's not the zing of say, a lemon curd, but rather a subtly tart note of lemon that's enveloped in a fluffy, creamy cheesecake package. And oh my stars is it good.
As you might have suspected, these start with an easy graham cracker crumb layer. Graham cracker crumbs, melted butter, and a bit of salt are mixed together and pressed into the pan to form a crust and all you have to do is set it in the fridge to chill and harden. No need to turn on the oven.
The cheesecake layer is easy to make but has a few components to keep it from tasting too one-note. There's lemon jello, which gives you some lemon flavor but also a nice texture, and there's also lemon zest and lemon juice to ensure that there's some true lemon flavor going on as well. You can thank cream cheese and whipping cream for the creamy, smooth bite and powdered sugar for adding a well-balanced sweetness.
No-Bake Lemon Cheesecake Bars
20 minutes active, 4 hours inactive to prepare serves 10-12
INGREDIENTS
2 cups graham cracker crumbs
1/2 cup (1 stick) unsalted butter, melted
1/2 teaspoon salt
2 packages lemon jello
1 cup boiling water
3 (8 oz) packages cream cheese, softened
1 1/2 cups powdered sugar
2 cups heavy whipping cream, chilled
Zest and juice from one lemon
Whipped cream, for serving, optional
Additional lemon zest, for serving, optional
PREPARATION
Grease a 9×9-inch baking dish with non-stick cooking spray. Set aside.
In a medium bowl, combine the graham cracker crumbs, butter, and salt until thoroughly combined.
Pour mixture into prepared pan and press firmly into the bottom. Place in fridge to chill while you prepare the filling.
In a small bowl, combine jello and boiling water and stir until dissolved. Set aside to cool to room temperature.
In a separate large bowl, beat cream cheese and powdered sugar with an electric mixer until smooth. Pour in the cooled Jello mixture, whipping cream, lemon zest and lemon juice, and beat until completely combined.
Continue beating on high until mixture starts to thicken.
Pour cheesecake mixture over crust and refrigerate until filling has set, at least 4 hours. Slice into squares and serve topped with whipped cream and lemon zest, if desired. Enjoy!
Adapted from OMG Chocolate Desserts.