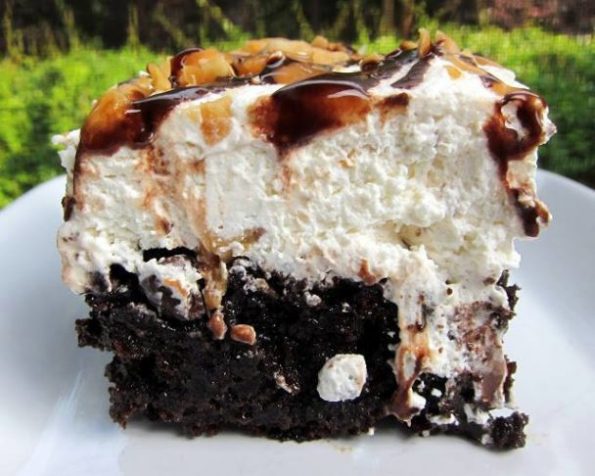 Tomorrow would have been – should have been – my dad's 60th birthday. You may remember that last year on his birthday, I shared with you his very favorite cake, the one he would always request for his birthday. It's a fabulous cake – a moist, chocolate cake with a river of cheesecake running through the middle and topped with sugared walnuts. It's a very worthy birthday cake. However, if he were still here, I would have insisted on making something different and more elaborate than the cake he requested every year since it would be the big 6-0. I have no doubt that he would have been completely smitten with this cake and found every excuse in the world to eat piece after piece.
When we were kids, my dad apparently got some routine blood work done that showed his cholesterol as borderline high. My mom banished sweets from the house (my dad was an ice cream fanatic) and started whipping up homemade banana-nut oat bran muffins. The only problem? He went to work for eight hours a day. My dad worked for a small company not far from where we lived, so sometimes if we were out, my mom would stop by for a visit. One day we walked into his office and my sister and I saw tons of candy bar wrappers in his garbage can. Apparently, my dad was a big Snickers fan. You know little kids love to tattle… especially if they get to tattle on their parents. It took all of two seconds for my sister and I to let my mom in on our discovery. We totally busted my dad for sneaking candy at work while my mom was making batch-after-batch of bran muffins. Sorry Dad!
Ingredients
1 box devils food cake mix, plus ingredients to make the cake
1 can sweetened condensed milk
1 jar Smucker's hot caramel ice cream topping
1/2 cup chocolate chips
2 cups heavy whipping cream
1/2 cup powdered sugar
1 tsp vanilla
3 snickers candy bars, chopped
1/3 cup peanuts, chopped
caramel sauce
chocolate sauce
Directions
Bake cake in a 9×13-inch pan according to direction on the package.
While cake is baking, mix condensed milk and hot caramel topping until well blended. When the cake is done and while it's still hot, poke holes in it with a fork or straw. Pour milk mixture over the cake. Allow cake to cool completely. Sprinkle chocolate chips over cake.
In a chilled bowl, whip together heavy cream, powdered sugar, and vanilla. Whip on high speed of an electric mixer for 1-2 minutes. Stir in chopped Snickers. Spread over cake. Sprinkle chopped peanuts over cake. Drizzle caramel and chocolate sauce on top. Chill.