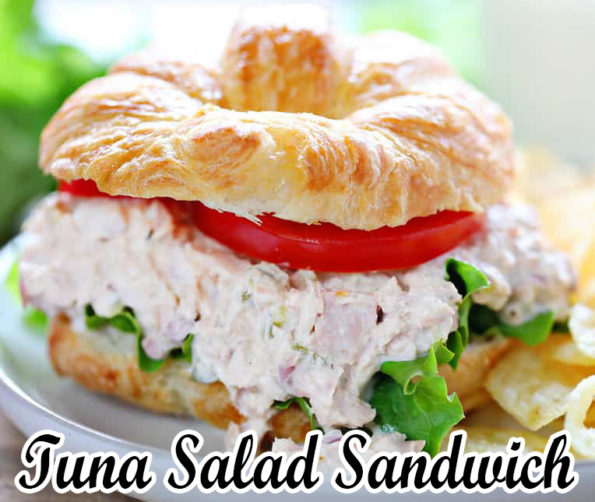 This is a flavor-packed tuna salad recipe. I admit, there are days when I grab a can of tuna, add some mayo and celery salt and am done! But there are also times that I want the most satisfying and delicious tuna salad sandwich ever… and this recipe fits the bill.
To this recipe, I add mayonnaise, seasonings, and shallots. The crunch comes from the onions, so I do recommend picking the best (freshest) shallot you can find.
The easiest way to make a tuna salad sandwich is to prepare the tuna salad, get your bread, and start layering. Our favorite (and the most classic way of eating tuna salad) is to grab a piece of bread (not toast!), lay lettuce on the bread, scoop the tuna salad on top of the lettuce, add sliced tomato, and then cover with another piece of bread. Serve with some chips or fries and you are good to go!
How to Make Tuna Salad
Easy ingredients combine to create what I am sure will be your FAVORITE tuna salad recipe!
The formula could not be easier: Prepare, Combine, Assemble, Enjoy! I like to chop all the shallots, pickles, and garlic and then start the assembling process. I also like to make each sandwich upon request. The longer the tuna salad sits on the bread the soggier it may be.
What Kind of Tuna to Use in Tuna Salad
I prefer using a tuna canned in water. When you are draining the tuna prior to use, as most recipes will recommend, you could lose some of the flavor if it was packed in oil. Tuna packed in oil can absorb some of the flavor of the tuna.
In general, water-packed is usually what folks choose because it has fewer calories and retains more omega-3s. Not to mention it can taste "fresher". One thing that I highly recommend is to make sure that you fully drain the water from the packed tuna. Extra moisture in the tuna salad is not typically considered a good thing. A watery tuna salad mixture will make the sandwich a little sloppy and could also make the bread soggy.
Ingredients
4 (5 ounce) cans tuna, drained
1 cup (239 g) mayonnaise
2 teaspoons celery salt
1 shallot, finely diced
2 tablespoons dill pickle, finely diced
1 tablespoon lemon juice
1 clove garlic, minced
1 teaspoon salt
1 teaspoon black pepper
1 head romaine lettuce
1 medium tomato, sliced
12 croissants
Instructions
In a medium bowl, combine tuna, mayonnaise, celery, salt, shallot, pickle, lemon juice, garlic, salt, and pepper.
Lay a piece of bread on your plate (or slice a croissant) and top with lettuce, tuna mixture, and then a slice of tomato.
Serve Immediately.